Renting out your car has become hugely popular among people looking to start a business or those who are just looking to make extra income. If you're looking to start renting out your car through a car rental app, two of the most popular platforms to use are HyreCar vs Turo.
Car sharing statistics indicate that this industry is anticipated to grow at over 20% compound annual growth rate from 2021 to 2027.
What makes car sharing an attractive option is that it is a win-win proposition for both the car owner and the person renting the car. The car owner can make money from an asset they already own, while the person renting the car can get a car without having to go through the hassle and expense of buying or leasing one.
For instance, a renter can gain easy access to a car for going on a road trip or for getting around town without having to go through the hassle of a traditional car rental company.
If you are planning to rent out your car, then you need the best car rental app to do it.
And the two names that come to mind are HyreCar and Turo. But the question is, which one is best?
When it comes to car rental apps, you need to review the pros and cons of each platform to make sure you are using the best one for your needs.
But it can take many hours of research to find information on each platform.
To make your decision easier, this guide breaks down HyreCar vs Turo based on features, ease of use, insurance coverage, fees, earnings potential, and more.
Let's dive in.
HyreCar vs Turo: Overview
HyreCar is a car-sharing marketplace that allows people to rent out their vehicles to vetted rideshare or delivery service drivers, like Uber or DoorDash drivers.
HyreCar has been around since 2014 and is available in all 50 states. Through their app, they have revolutionized the way people can make money since now rideshare drivers don't even need their own car to make money on platforms like Uber or DoorDash. Meanwhile, the car owner is also making money by renting their car out to drivers.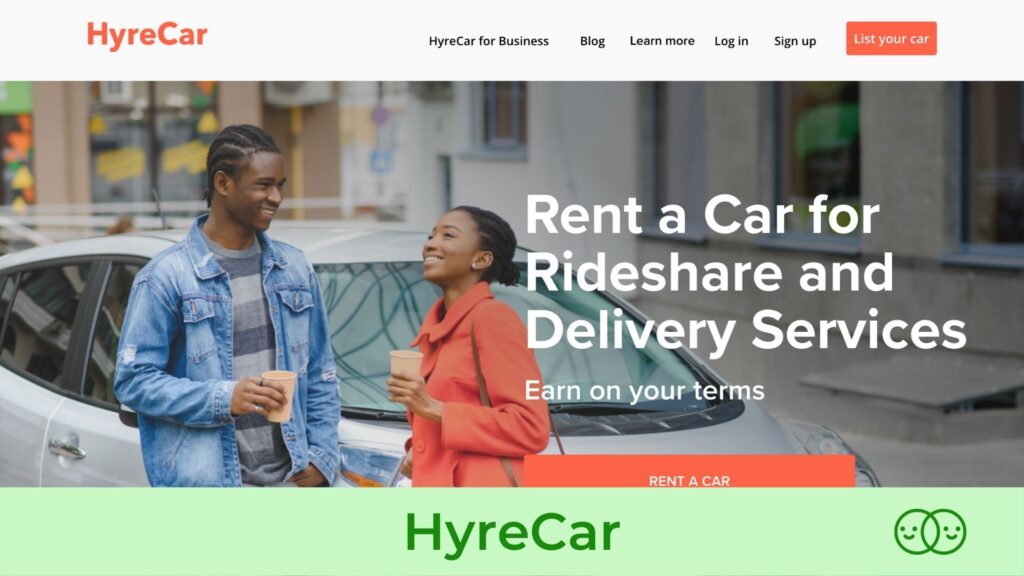 Some of the most important HyreCar features are:
HyreCar has vetted drivers that they run a thorough background check on before allowing them to rent a car.
They have excellent 24/7 customer service and car owners can enjoy an expedited claims process if needed.
Intuitive platform that is easy to use for both car owners and drivers.
Turo was founded in 2009 and currently has over 14 million members in over 56 countries.
It's currently the largest car sharing platform in the world.
Some of the most prominent features of Turo are:
Access to a large network of users to rent your car out to with over 14 million members worldwide.
An easy-to-use app for both car owners and renters allowing you to operate the entire transaction from your phone.
24/7 customer support and roadside assistance for your guests.
Seamless onboarding process allowing you to list your car to be rented in minutes.
The main difference between the two is that HyreCar is only for renting out your car to rideshare or delivery drivers, while Turo is for anyone who wants to rent a car.
However, with so many other factors to consider, we need to dig deeper before making a decision.
HyreCar vs Turo: Which One is Best?
Availability
Features
Ease of Use
Safety
Fees
Earnings Potential
1. Availability
You want to make sure that the car rental platform you use is available in your area and that there is enough demand for you to make enough money.
Since Turo was the first carshare app, it has excellent availability.
The number of Turo users increases daily.
Car owners flock to it for potential customers and renters use it for the abundance of options when they need a car.
Turo is available in 56 countries and has 450,000 vehicles listed making it easily accessible to most users.
HyreCar is available in all 50 states and while HyreCar's availability isn't as expansive as Turo, there's a good chance it's available in your area.
Since HyreCare serves a different market than Turo, it has not been as widely adopted.
However, HyreCar is available in most major markets where Uber and other rideshare or delivery apps operate. They are continuing to grow and are adding thousands of new cars onto the platform.
From an availability perspective, Turo is the winner since HyreCar is more likely to be available in densely populated areas where Uber, Lyft, DoorDash, and other services are popular.
Winner: Turo.
2. Features
Earnings and safety are one of the most crucial aspects of a successful car rental business. When looking for a car rental app, make sure to find one that offers all the capabilities and tools that you need to run a successful car rental business that can operate long term.
Both platforms come equipped with a strong set of capabilities.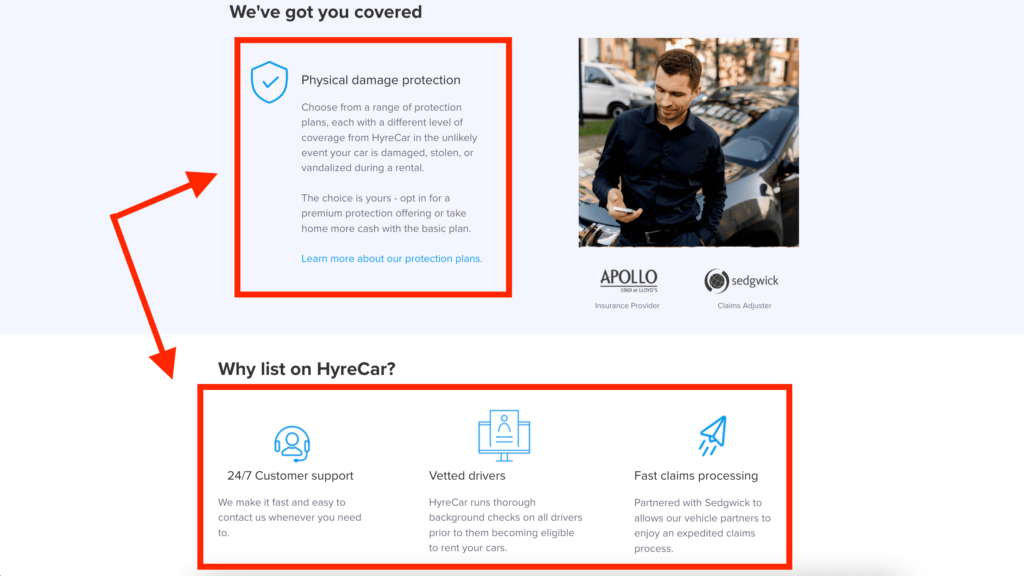 HyreCar features:
Long term rentals: Car owners can make the most money by renting out their car for long periods of time, and HyreCar makes this easy to do.
Safe drivers: Only those with a clean driving record are allowed to rent cars on HyreCar, so you can be confident that your car is in good hands.
Customized protection plans: HyreCar offers different protection plans that are tailored to your needs, so you can be sure you're getting the best coverage for your car.
24/7 customer support: If you have any questions or problems, HyreCar's customer support team is available 24/ seven to help resolve any issues.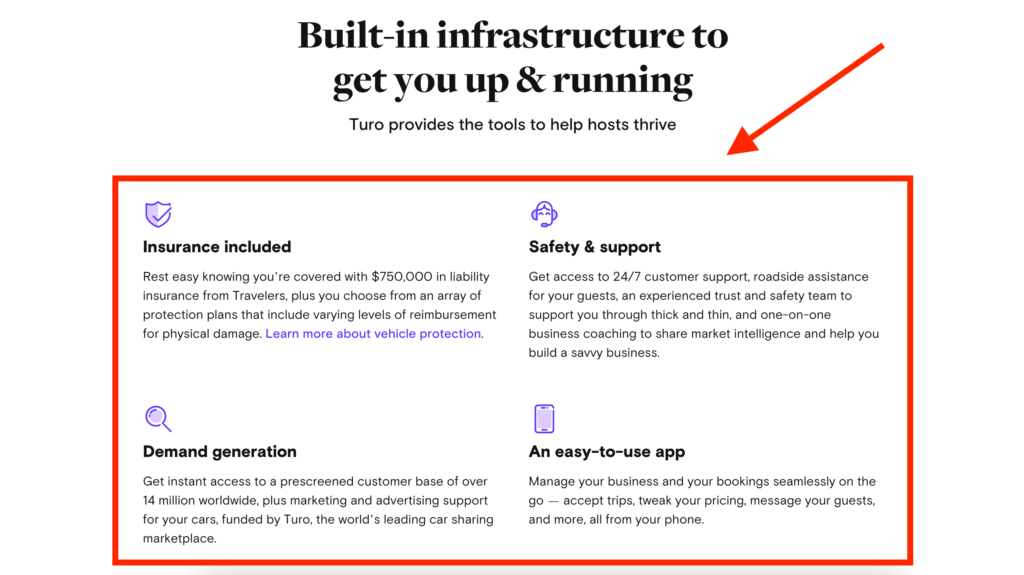 Turo features:
Easy listing process: Turo has a very user-friendly platform that makes it quick and easy to list your car.
Flexible: You can rent out almost any type of car on Turo, from minivans to sports cars.
High demand: With over 14 million users, there is a high demand for cars on Turo, so you're likely to get renters for your car quickly.
No monthly fees: You only pay a commission when your car is rented out, so there are no monthly fees to worry about.
Since safety is one of the primary concerns for car owners, we think HyreCar is the winner in this category.
The fact that HyreCar caters to people who drive for a living and have a clean driving record gives car owners some peace of mind. Longer rental periods are also a major plus since it allows car owners to make more money.
Winner: HyreCar.
3. Ease of Use
It is essential to use a car rental platform that is intuitive and that allows you to seamlessly run your rental business. The last thing you want is to be bogged down by a complicated platform that makes it difficult to list or manage your rentals.
Here are some of the key features that make HyreCar an easy-to-use platform:
Create a free listing within just a few minutes
Get started quickly with their step-by-step guide
Manage your rentals and calendar all in one place
24/ customer support to answer any of your questions
Here are some of the key features that make Turo an easy-to-use platform:
List your car in just a few minutes
Easily manage your rental calendar
Get paid quickly and securely
With both platforms offering a quick and easy listing process, Turo wins since cars do not require an inspection before they can be listed.
Winner: Turo.
4. Insurance coverage
Damages and safety loom over the heads of car owners when they hand their keys over to a stranger. According to a report, car accidents happen every minute, and with more cars on the road, that number is only increasing.
To address safety concerns, both HyreCar and Turo offer comprehensive insurance plans to keep your car and its drivers protected.
Here's a quick rundown of some of the safety measures taken by both platforms.
HyreCar:
There are four fee plans based on the level of protection you choose. All plans offer $1 million in liability coverage, up to $25,000 of physical damage coverage, and management of camera and parking tickets.
Basic: $3,000 deductible
Standard: $2,500 deductible
Premium: $1,000 deductible
Premium Plus: $500 deductible
Turo:
Turo also offers four levels of protection with different deductibles. All plans come with $750,000 in liability coverage for your car.
60 plan: $0
75 plan: $250
80 plan: $750
85 plan: $1,625
90 plan: $2,500
Here both platforms offer a strong set of safety features. However, HyreCar has a slight edge over Turo as it covers car owners slightly more than Turo.
Winner: HyreCar.
5. Fees
The fees that you pay to rent out your car can eat into your profits, so it's important to choose a platform that has low fees. It is essential to compare the fees of both options before making a final decision.
Here, we'll cover the fees charged by HyreCar and Turo when you rent out your car on their platform.
HyreCar fees:
HyreCar doesn't charge any fees to list a vehicle on their platform and there is no membership fee. HyreCar's only fees are specific to the protection plan you select for your vehicle.
Basic Protection: 15% fee
Standard Protection: 20% fee
Premium Protection: 25% fee
Premium Protection: 30% fee
Turo fees:
Turo takes a percentage of your earnings depending on the protection plan you select.
60 plan: 40% fee
75 plan: 25% fee
80 plan: 20% fee
85 plan: 15% fee
90 plan: 10% fee
Although Turo's 90 plan offers a lower fee than HyreCar's lowest fee plan, it provides much less coverage than HyreCar's lowest fee plan. Overall, HyreCar is the better option when it comes to fees since their Basic plan only takes 15% of the trip price and offers great coverage for car owners. Likewise, HyreCar's highest protection plan offers more benefits and coverage than Turo's highest protection plan for a much lower fee.
Winner: Hyrecar.
6. Earnings potential
You want to make sure that the platform you choose will put you in front of the highest number of renters so you can make the most money. Demand for car rentals can vary greatly depending on the platform you use.
In general, Turo has a higher demand for car rentals than Hyrecar. Turo is available in over worldwide and has millions of members. Hyrecar, on the other hand, is only available in the US and has a fewer members. The difference in demand, of course, has to do with the fact HyreCar is offered to a smaller segment of the population who are delivery or rideshare drivers. Turo is offered to any type of renter.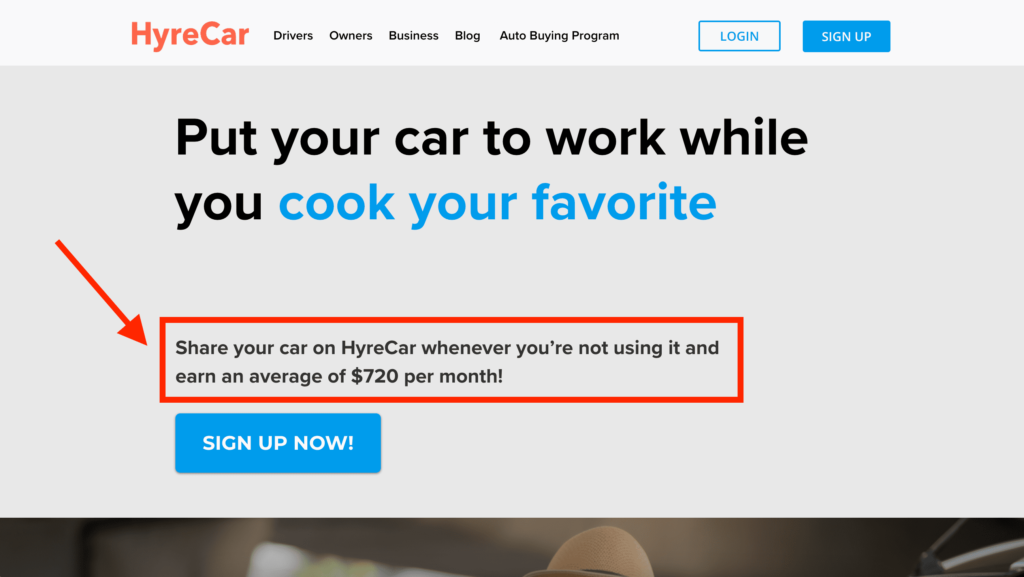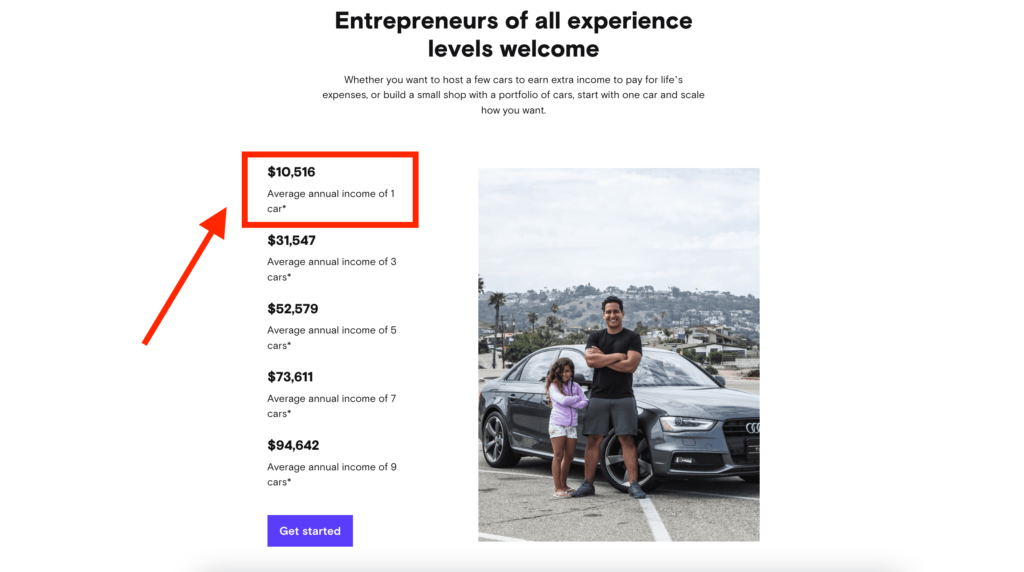 Although, HyreCar renters tend to rent for longer periods of time than a typical Turo renter, resulting in higher earnings for HyreCar owners. The average HyreCar rental is about 11 days, while the average Turo rental is only three days.
According to HyreCar, car owners earn an average of $720 per month on their platform. Meanwhile, Turo car owners earn an average of $876 on their platform.
Winner: Turo, but it is close.
Bottom Line
This detailed comparison between both HyreCar and Turo is going to help you make an informed decision. Both the car rental apps offer a robust way to make money with your car. However, it's a tie when it comes to judging them on the basis of their features, insurance coverage, fees, and other aspects. When it comes to earnings potential and demand, Turo has a slight edge. But, if you are looking for a platform with low fees and great coverage, HyreCar is the better option. The final decision to pick the best car rental platform is subjective and depends on your requirements.
In my opinion, HyreCar offers a number of features that can help you rent out your car stress-free while making close to the same amount of money as you would on Turo. Protection is important to me, and I like that HyreCar offers different comprehensive protection plans with minimal fees. Make sure to evaluate all the features against your specific requirements to make sure you pick the most suitable option.
Get started with HyreCar today.