NFTs are set to be the next big thing for investors who are looking to diversify their portfolios and invest in an asset class that is trending up, fast.
2021 saw 28.6 million NFT trades, up from some 545,000 the year prior, according to DappRadar. These blockchain-based digital artworks have quickly become a cultural phenomenon.
Sales volume for NFTs totaled roughly $24.9 billion in 2021 with many projects, such as CryptoPunks, Bored Ape Yacht Club, and others commanding several million dollars for a single piece of digital art.
In this post, I will share my list of the best NFT stocks to buy and hold right now. I will also cover what is NFT stock, what each company does, and why I think NFT stocks might be a good investment.
If you'd rather buy a stock that is connected to NFTs rather than buy your own NFT, this article is for you.
Let's get into it.
What is an NFT?
NFT stands for "non-fungible token."
Non-fungible assets are things that can't be replaced with another identical item. Fungible items, on the other hand, are replaceable. A laptop is fungible since a laptop is always a laptop no matter the specifications or the brand. The ability to replace a laptop with another laptop is what makes it fungible. The same goes for a dollar bill or milk in your refrigerator – they are fungible since they can be replaced with a virtually identical version.
NFTs are a type of digital asset that is non-fungible. They are unique, and therefore can't be replaced with another identical item. This uniqueness is what gives them their value. And what gives NFTs their uniqueness is how they are programmed in the blockchain.
NFTs store extra information on the blockchain that makes them work differently, giving users ownership and management permission. Blockchains also add several unique properties to NFTs, like verifying authenticity, paying dividends, or viewing the entire history of the NFT.
There are many different types of NFTs, but they all have one thing in common: some unique feature or utility that gives them their value.
What Are The Best NFT Stocks To Buy And Hold?
The following are the best non-fungible token (NFT) stocks to buy and hold this year.
1. Defiance's NFTZ (NFTZ)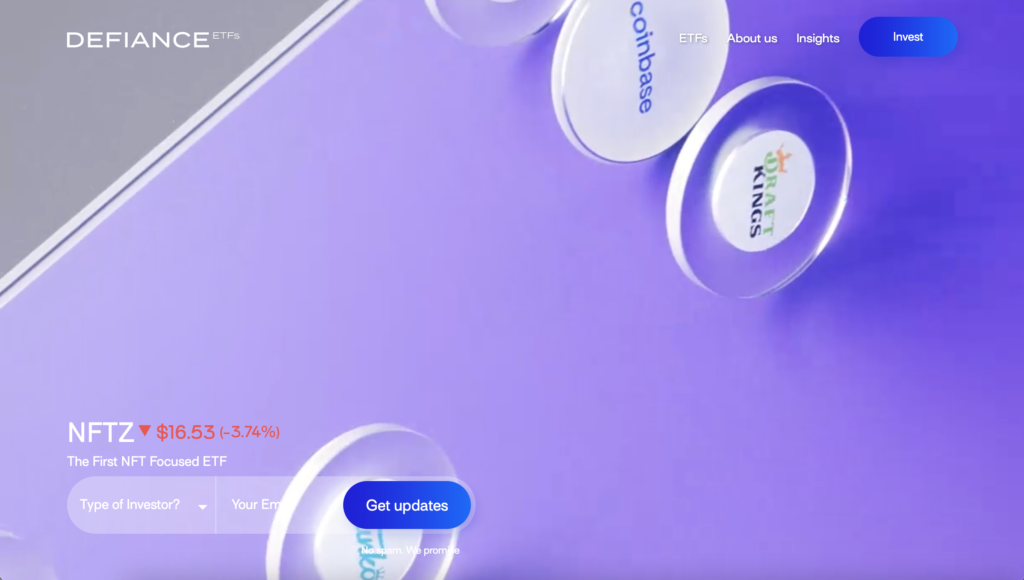 Defiance's ETF (NFTZ) is what I believe to be the best blockchain-based asset for investors looking for exposure to the NFT market. The NFTZ fund launched on November 23rd, 2021 and it aims to track the composition of the BITA NFT and Blockchain Select Index.
The fund is a basket of different publicly listed companies, each with its own involvement in the NFT, blockchain, and cryptocurrency ecosystem. This gives investors exposure to a large pool of stocks that are involved in the NFT market.
By investing in an ETF, investors mitigate risk across multiple companies, while also being able to easily buy and sell it like an individual stock.
NFTZ includes companies dedicated to growing the NFT industry, such as Coinbase, Block Inc, and eBay.
2. Coinbase (COIN)
Coinbase is one of the most well-known cryptocurrency exchanges in the world, and it also happens to be a great NFT stock. Coinbase offers users a secure way to buy, sell, trade, and store digital assets such as Bitcoin (BTC), Ethereum (ETH), NFTs and other cryptocurrencies.
It's backed by some of the biggest names in venture capital, and it's one of the most user-friendly exchanges available.
Coinbase also offers its own wallet that can be used to store NFTs. This makes it a great option for users looking for a secure place to store their tokens.
The company is also working on developing its own NFT marketplace, which can be used for buying and selling NFTs. This is what makes it one of the best NFT stocks to buy.
In fact, Coinbase might very well be on its way toward being a one-stop shop for all things NFT.
3. ebay Inc. (EBAY)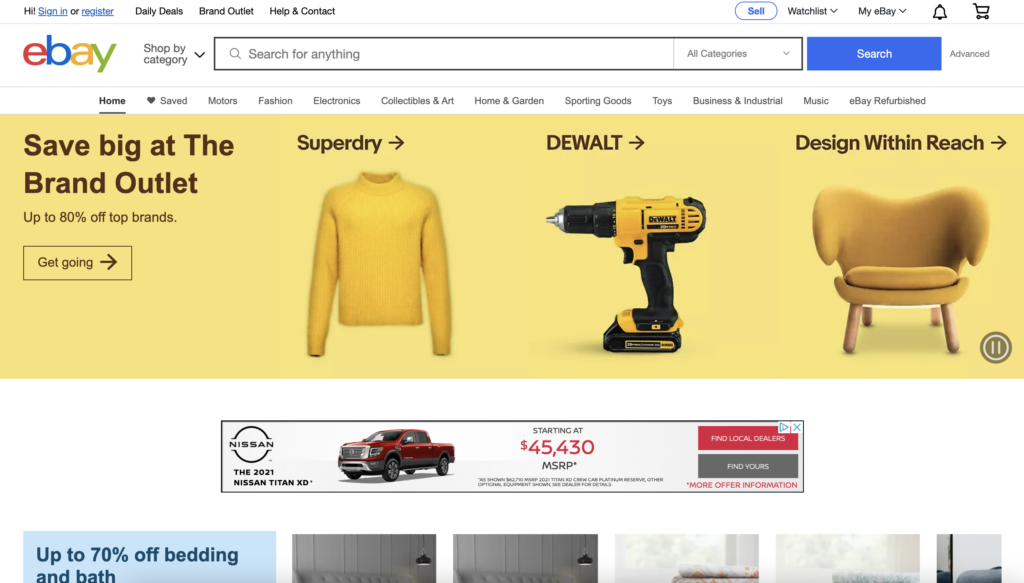 eBay is well known on Wall Street for its work operating an online auction and shopping website that was founded in 1995. However, now it is becoming a powerful NFT stock for investors who are looking for an established company in a high-growth industry.
The company is working on developing its own blockchain platform, which will be used for auctioning and selling NFTs. eBay is one of the first ecommerce sites on the web, making it one of the largest and most established players in the NFT space.
eBay is a great option for investors looking for exposure to what I believe will be one of the fastest growing NFT stocks in the coming years.
4. Block Inc. (SQ)
Block, the corporate entity behind popular financial companies, such as Square and Cash App, is also becoming a player in what I believe will be one of the biggest industries over the next few decades.
Cash app now offers support for buying and selling cryptos directly through its platform. This makes it easy for people to buy cryptocurrencies like BTC or ETH with fiat money, which can then easily be used to purchase any type of NFT.
Likewise, founder, Jack Dorsey, has expressed his unwavering support for Bitcoin and blockchain technology throughout the years and his dedication to developing the industry.
I think Dorsey's aggressive investments in blockchain technology and the company's ever-increasing crypto functionality is what makes Block such an attractive investment opportunity. It's also already well established among millions of active customers who are using apps like Cash App and platforms like Square daily.
5. Voyager Digital Ltd. (VYGVF)
Voyager is a trusted cryptocurrency broker providing investors with commission-free trading on more than 70 cryptocurrencies. What makes Voyager interesting for investors is its offering for both retail and institutional investors.
Founded in 2017, Voyager provides services, like access to order execution, liquidity, and custodial services for large institutions. Likewise, its consumer mobile app has become a powerful player in the digital currency market, offering smart integrations with over a dozen crypto exchanges and a simple platform with the widest selection of altcoins.
Although, the company does not directly support NFTs yet, Voyager is what I would call a sleeping giant in the NFT space. I expect that as more investors become interested in buying and selling digital assets and NFTs, Voyager will begin to support these transactions on its ever-expanding platform.
6. DraftKings Inc (DKNG)
DraftKings has an NFT marketplace focused on digital sports collectibles. With lines from sports legends like Tom Brady, Tiger Woods, and more it has been one of the most successful public companies in the NFT space.
The company has shown what it can do with traditional sports collectibles, and its success in the NFT space could very well be what helps it become one of the best NFT stocks.
More than that, DraftKings is already proven as a major player in the digital collectibles space. It is what I would call a first mover and has been able to dominate its competition with millions of active users who spend money on the platform.
Depending on the continued success and rollout of their NFT offerings, DraftKings could be one of the best stocks for investors looking for exposure in the multi-billion dollar NFT industry.
7. GameStop (NYSE: GME)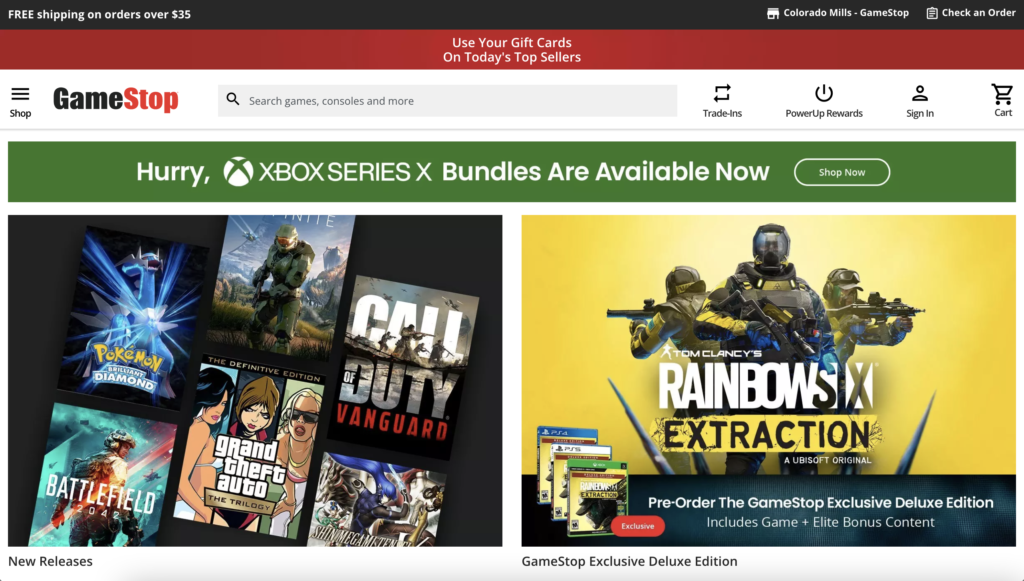 Traditional gaming retailer, GameStop, is planning on launching its own NFT marketplace. Fueled by the company's desire to rebrand itself, GameStop could quickly turn into one of the top NFT stocks to buy.
GameStop is aiming to transition away from its traditional brick-and-mortar retail model in favor of an eCommerce and blockchain model with NFTs as its backbone.
Gaming is what I believe will be one of the most popular applications of NFTs, and GameStop is already a household name that millions trust. The comapny's move into blockchain technology and NFTs could be what propels it to the top of this budding industry.
Conclusion
The above list of stocks are what I would consider to be some of the best opportunities for investing in NFTs. There will certainly be many more companies looking into blockchain technology and digital assets as we move forward but these stocks are what I believe to be some of the best.
As always do your own due diligence before investing in any company. These stocks are not recommendations and should only be used as a starting point for your own research.
If you enjoyed reading about what stocks could be a good NFT investment opportunity, don't forget to check out my latest blog post: How To Invest In NFTs In 2022 (Ultimate Guide).
Happy investing!
---
Disclaimer
I'm not a certified financial planner/advisor nor a certified financial analyst nor an economist nor a CPA nor an accountant nor a lawyer. I'm not a finance professional through formal education. I'm a person who is enthusiastic about researching and sharing financial education. The contents of this article are for informational and entertainment purposes only and does not constitute financial, accounting, or legal advice. I can't promise that the information shared on my posts is appropriate for you or anyone else. By using the information in this article, you agree to hold me harmless from any ramifications, financial or otherwise, that occur to you as a result of acting on information found on this site or article.