One of the newest trends in the world of art is Non-Fungible Tokens (NFTs).
These blockchain-based digital artworks have quickly become a cultural phenomenon. Sales volume for NFTs totaled roughly $24.9 billion in 2021 with many projects, such as CryptoPunks, Bored Ape Yacht Club, and others commanding several million dollars for a single piece of digital art.
In this blog post, we will explore how to sell NFTs on the most popular marketplaces, the basics of what an NFT is, and the decisions you'll have to make before deciding to sell one.
Let's get started.
What is an NFT?
NFT stands for "non-fungible token."
Non-fungible assets are things that can't be replaced with another identical item. Fungible items, on the other hand, are replaceable. A laptop is fungible since a laptop is always a laptop no matter the specifications or the brand. The ability to replace a laptop with another laptop is what makes it fungible. The same goes for a dollar bill or milk in your refrigerator – they are fungible since they can be replaced with a virtually identical version.
NFTs are a type of digital asset that is non-fungible. They are unique, and therefore can't be replaced with another identical item. This uniqueness is what gives them their value. And what gives NFTs their uniqueness is how they are programmed in the blockchain.
NFTs store extra information on the blockchain that makes them work differently, giving users ownership and management permission. Blockchains also add several unique properties to NFTs, like verifying authenticity, paying dividends, or viewing the entire history of the NFT.
There are many different types of NFTs, but they all have one thing in common: some unique feature or utility that gives them their value.
How to sell NFT Art
Here are the simple steps you can take to sell your NFT art.
1. Set up a digital wallet
First, you'll need to set up a digital wallet that is compatible with NFTs. MetaMask is one of the most popular wallets for NFTs and can be used on most browsers. To set up a MetaMask wallet, visit their website and follow the setup instructions.
Once you have created your wallet, you will be given a unique 12-word seed phrase and a password to access your wallet.
Write down both of these and save them in a safe place. This will allow you to use your wallet or recover it if anything goes wrong.
Once that's done, you can move on to the next step to add money to your MetaMask wallet.
2. Buy cryptocurrency
You typically need a token like Ethereum (ETH) to transact on NFT marketplaces. ETH is the leading crypto used to buy and sell NFTs. ETH is also used to pay for any creator royalties and any fees associated with transactions on the blockchain.
If you don't already own ETH, one of the easiest ways to buy it is directly from your MetaMask wallet.
To buy ETH from your MetaMask wallet, follow these steps:
1. Click on the 'Buy' button.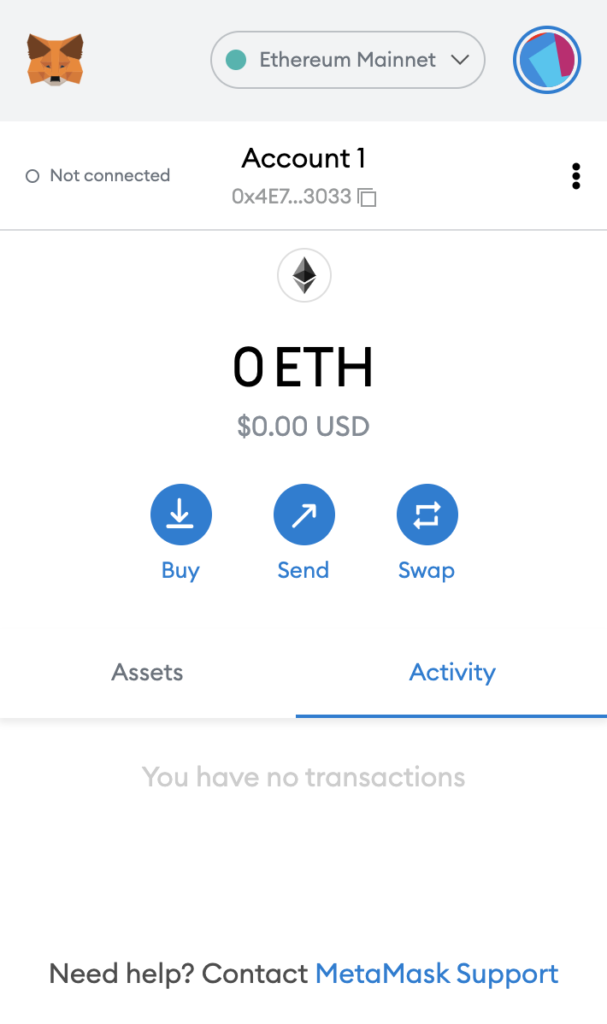 2. Select the option 'Buy ETH with Wyre'.
3. You'll be taken to a screen where you can select your preferred payment method.
4. Follow the steps and finalize the purchase.
3. Connect to an NFT platform
You'll need to connect your digital wallet to the NFT marketplace that you'll use to create your NFT. For demo purposes, I'm using OpenSea, but there are several other NFT marketplaces, like Rarible, SuperRare, or LooksRare.
To connect your digital wallet, follow these steps:
1. Go to OpenSea.io.
2. In the top right-hand corner of the screen, there's an icon of a wallet. Click the wallet icon.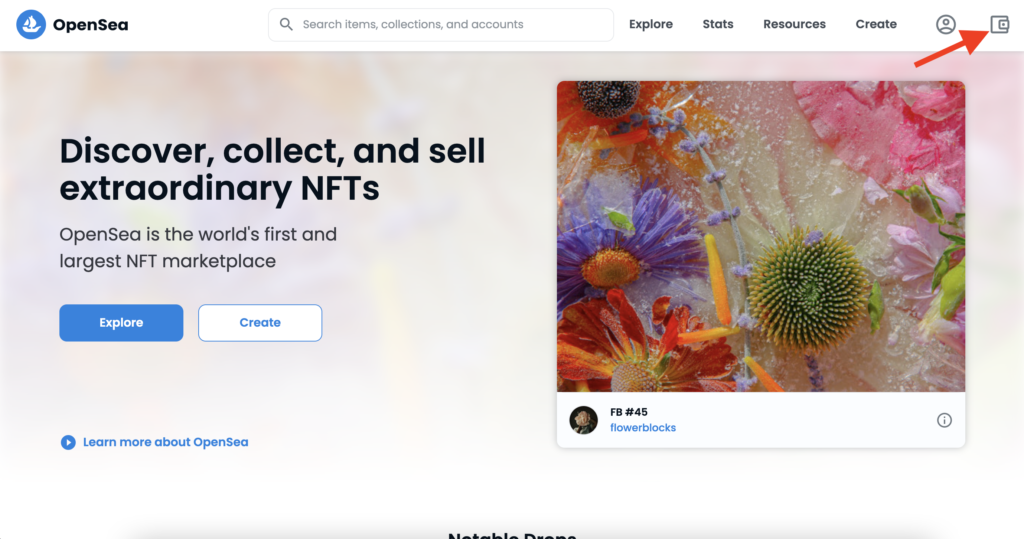 3. On the popup screen, you'll be asked for your wallet provider. Select MetaMask.
4. A popup will give you the option to connect your wallet with OpenSea.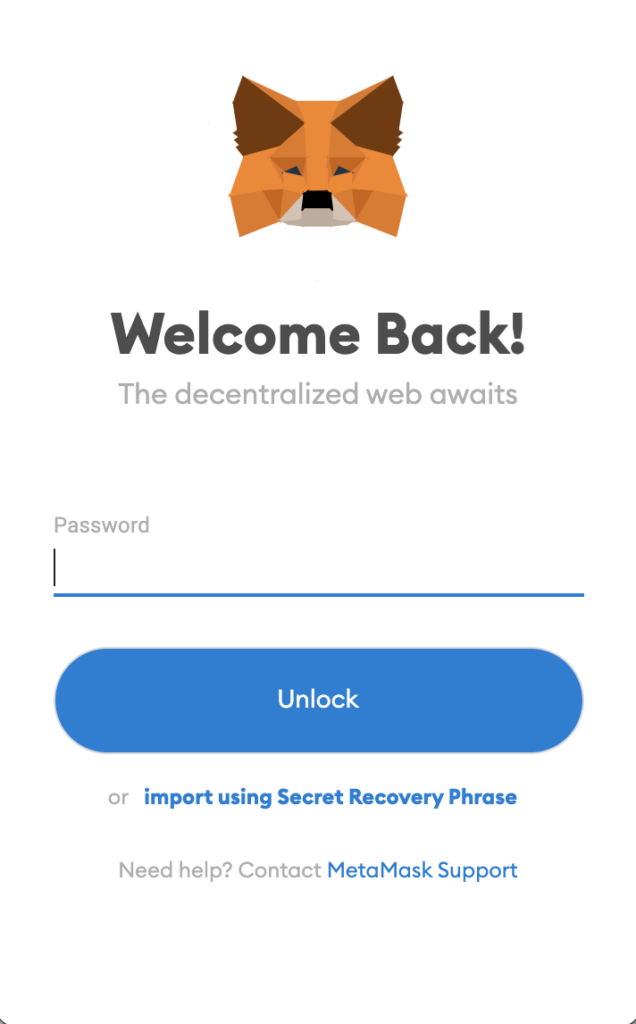 5. Click 'Next', then 'Connect'.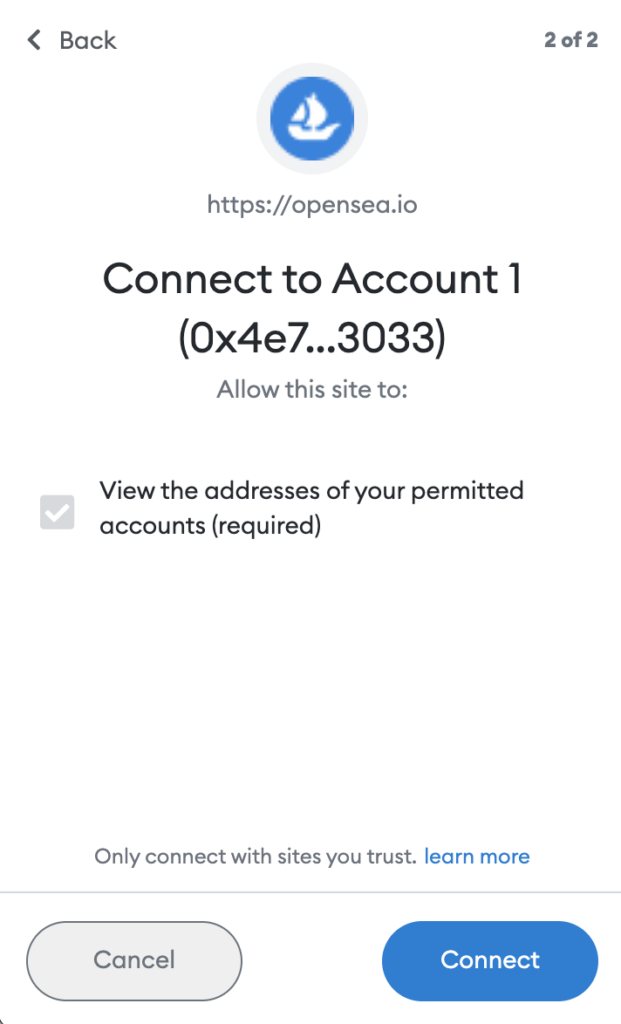 Next, you'll want to quickly create your OpenSea account:
Select the profile picture in the top right corner.
Click the 'Settings' tab from the dropdown menu.
Select 'Sign' on the Signature Request popup
Go to the 'Profile' tab and complete the text fields to finalize your profile.
4. Upload your art
Now that you have a wallet setup, connected, and loaded with ETH, you're ready to upload your NFT art.
1. On the OpenSea site, click the 'Create' tab at the top right.
2. Complete all required fields and attributes, like the image, name, properties, etc.
3. Once you have completed all of the required fields, click on 'Create'.
5. Setup your auction
In the next part, you'll need to choose how to sell your NFT artwork.
There are two options. 'Fixed price' allows you to set a price and instantly sell your NFT. The 'Timed auction' option allows people to place bids for a set amount of time.
6. Pay the listing fee
Lastly, you'll be invited to connect with your wallet to pay the listing fee and finalize the listing.
Before paying the listing fee, keep in mind that you'll have to agree to other fees to generate your NFT, such as commission fees and transaction fees.
Once your listing is complete, you will get a pop-up message confirming that your NFT listing was successfully created.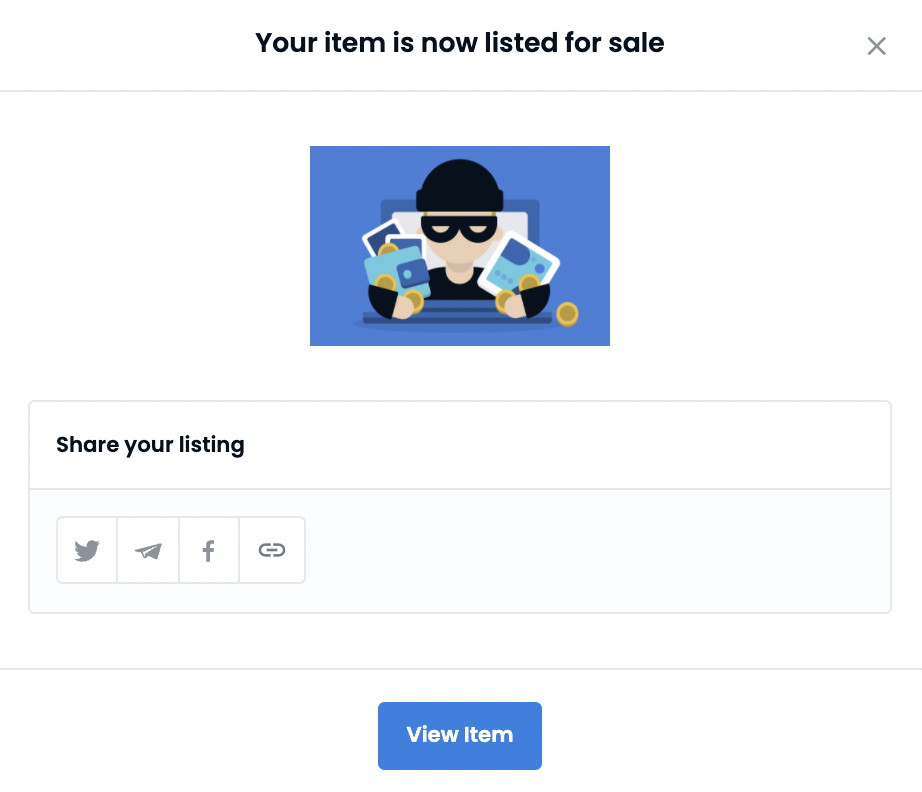 Frequently Asked Questions
---
Where can I sell my NFT art?
Many NFT marketplaces exist, but some of the most popular include OpenSea, Rarible, SuperRare, or LooksRare.
How much does it cost to sell an NFT?
The fee for selling an NFT on OpenSea is 2.5%. Fees for selling or listing on other platforms vary widely. Other fees, such as commission and transaction fees, may also apply on other platforms. It's best practice to plan for high transaction costs anywhere from $100 and up depending on a variety of factors like platform fees, gas fees, and the price of your NFT.
How do I sell my NFT?
Selling your NFT is easy. Simply set up your digital wallet, create an account on a trusted NFT marketplace, configure your listing, choose how you want to sell it (auction or fixed price), and then pay the listing fee. From there, your NFT will be live on the marketplace and available for purchase.
How do I market my NFT art?
Marketing is probably the most important part of how to sell NFT art. It's very likely that your digital artwork may not even generate an immediate sale, so there are several things you can do to increase exposure and build a following for yourself as a trusted artist:
Join communities like Discord, Twitter, or Reddit where people with similar interests will be more likely to find your work.
Create a website or blog to showcase your art and provide more information about you as an artist.
Share your artwork on social media and other online platforms.
Make sure to include how much ETH is required for the purchase of your NFT, how long it will be available for purchase, and any other important details.
Including a video or gif of your NFT in action can be really effective in getting people interested in your work.
Conclusion: How to sell NFT Art
NFTs are the newest form of digital art and are growing exponentially in popularity. When it comes to how to sell NFT art, there are a few things you need to consider before getting started. Fees and commission rates vary from platform to platform, so do your research and be prepared for high transaction costs. It's also important that you market your work effectively by joining communities online and sharing your artwork on social media. With a little bit of effort, you can build a following for yourself as an artist and start selling your NFT art with ease.
Happy selling!