Learn how to start an Airbnb in 7 easy steps. Follow this step-by-step guide to discover the tactics I used to make $50,000 with my Airbnb in under four months, become a Superhost, and create a steady stream of passive income from Airbnb.
How to Start an Airbnb in 7 Easy Steps:
Decide on Your Commitment
Choose your Market
Build Your Team
Get a Property
Set Up Your Property
Create Your Listing
Grow Your Airbnb
1. Decide On Your Commitment
Starting an Airbnb business can be one of the most profitable side hustles you'll ever undertake, but it's important to decide how much time and money you are willing to commit.
Consider how much time you can devote to managing your Airbnb each week, as well as how much money you're willing to spend on the property, renovations, and furniture.
Choose a commitment that feels comfortable for you and fits your budget.
There are all kinds of Airbnb investments you can make. Whether an entire 4 bedroom home or a spare room in your house, your return on investment will largely depend on the time and money you are willing to commit upfront.
If you want the best results, use AirDNA to research what the best opportunities are in a market you're interested in. Look to see which listings are currently making the most money, have the best occupancy rates, and have the most positive reviews.
If you're not sure how much time or money you should commit, start by investing in a smaller property. You can always upgrade later if your Airbnb proves to be profitable.
No matter how much time or money you're willing to invest upfront, there's an Airbnb opportunity out there for you.
When I bought my first Airbnb rental property, I was at a point in my life where I knew I wanted to diversify my income and was willing to make a substantial upfront time and financial commitment.
Just be honest with yourself about the commitment you are able to make and how much you're willing to risk financially.
2. Choose Your Market
There are a lot of factors to consider when choosing your Airbnb market.
While it's true that an investment in any major city can be profitable, certain cities and neighborhoods will make you more money than others.
Before deciding on which neighborhood or how much to charge for your property, research how many Airbnb properties are currently in the area, and how high occupancy rates have been historically.
You'll want to avoid oversaturated markets with low income potential where competition is too stiff.
You'll also want to avoid markets that are not at least an hour away from any major tourist destinations.
When I started investing in my own Airbnb business I chose Denver because occupancy rates were good, the competition was low for the type of property I wanted, and tourism was booming.
Do your homework by researching which markets have the best potential for you.
Also, keep in mind laws and regulations for short term rentals in your city. Not all areas will let you operate an Airbnb rental property.
There are a lot of things that go into choosing an Airbnb market, but with AirDNA and a bit of Googling, you can easily find a profitable opportunity in any city.
Don't be afraid to ask around either. There are usually passionate groups of Airbnb aficionados and small business owners in any area that are willing to help.
Once you've decided on the market you want to invest in, it's time to start building your team.
3. Build Your Team
When starting an Airbnb, it's important to build a team of people you can trust.
This includes finding a real estate agent who knows the market well and can help you find a property that fits your budget and needs.
It's also helpful to have cleaning services and repair people who can help you with property maintenance.
While it's possible to do everything yourself, having a team of people who can support your small business will make the process much easier and less stressful.
When I started my Airbnb business, I searched online for people in the real estate industry who had experience with short term rentals, specifically Airbnb.
Through BiggerPockets, I found a real estate agent that I could trust, and it turned out he was also an Airbnb investor himself.
He knew how important it was for me to start off on the right foot in a good area in Denver, so he gave me recommendations for markets with low Airbnb regulation and high property appreciation potential.
But it's not just about finding the right professionals, it's also important to find the right team members.
Most of the people that help me run my small business I now consider friends and I'm happy to help them with their own businesses.
Your core Airbnb team will include a mortgage lender, real estate agent, cleaning crew, landscaper, handyman, and property manager.
Mortgage Lender:
The first step in starting your Airbnb business is securing a mortgage. Talk to a few different lenders and find the one that's best for you.
Mortgage lenders will look at how long you've been at your job, how much debt you currently have, and how much money you're making each month to decide how much they are willing to loan you.
It's important to get pre-approved for a mortgage before finding an investment property because it will help speed up the process and ensure that everything goes smoothly.
If you already own the property, you can skip this step.
Real Estate Agent:
Once you've found the perfect mortgage lender, it's time to find a real estate agent.
Not all agents are created equal and you'll want to make sure you find one that specializes in Airbnb investment properties.
The best way to find an agent is by word of mouth or through personal referrals.
Again, if you already own the property, you can skip this step.
Cleaning Crew:
One of the biggest headaches when running an Airbnb is keeping up with the cleaning schedule.
That's why many people choose to outsource this responsibility to a professional cleaning crew and why cleaners are considered the brain of any good Airbnb operation.
Cleaning services for the property are largely responsible for whether you get positive reviews or not.
There are a lot of different options for finding a cleaning crew, but I would recommend looking for one that has experience in the hospitality industry.
Landscaper:
Unless your property comes with landscaping included or you don't need landscaping services, you'll want to hire a landscaper.
Landscaping is essential because how your property looks directly impacts how much money you're going to make.
A lot of people will book an Airbnb based on how nice the outside appears, so having lush green grass and well-maintained bushes goes a long way!
Property Manager:
You want to minimize problems as much as possible while trying to run an Airbnb business. That's why many investors choose to have a professional property manager or property management company manage all interactions between them and their guests.
I manage my own Airbnb and would recommend most people manage their first property.
It's an incredible learning experience and doesn't require much effort after you get the hang of it. It also means you get to keep a greater portion of your revenue every month.
Property managers are important when you're short on time or managing multiple short term rental properties. Once you start scaling the number of properties you own, you'll need to shift your focus on how much money your small business is making, and less on the daily operations.
Now that you've started to assemble your Airbnb dream team, it's time to start your search for the perfect investment property.
3. Get a Property
When searching for an investment property make sure you keep in mind the following:
How much can I afford?
Are there any restrictions from local government or homeowners associations?
What type of market am I targeting (families, couples, partiers, business people)?
What amenities are included with the property (pool, jacuzzi, game room, etc.)?
What is the occupancy rate in the area?
How long will it take me to get the property ready for rent?
Once you've answered these questions, you'll be able to start your search for the perfect property.
There are a lot of different ways to find an investment property and my favorite is through online marketplaces like Redfin or Zillow.
These websites have a wide variety of properties from all around the world and make it easy to filter your results by price, amenities, location, etc.
Another great way to find a property is by getting on your real estate agent's email list. They will send you a curated selection of homes anytime an opportunity hits the market.
When looking for Airbnb rentals, there are a few key things to keep in mind.
The most important factor is how much you can rent the property for.
You want to make sure that your monthly mortgage payment, insurance, and taxes are all less than what you can charge as an Airbnb host.
In addition, you'll want to make sure the property is in a good location: close to public transportation, schools, and other amenities.
And you want to look for a home with good features: good floor plan, well maintained, and newer expensive features like a roof and windows.
Finally, be sure to have a realistic idea of how much work will be required to fix up the property if any repairs are required.
Now that you've found the perfect Airbnb investment property, it's time to start the process of setting up your Airbnb business.
5. Set Up Your Property
There are a few things you want to do before your Airbnb listing is available for guests.
The first thing I would recommend doing is making sure the property has decent security with working locks and deadbolts, smoke/carbon monoxide detectors, etc.
Most importantly, invest in as many smart devices as you can to automate your operation, including a smart lock, thermostat, and security system.
The more you automate your Airbnb property, the smoother your operations will be. Your guests will appreciate a smooth experience, the home will be more secure, and you'll be less stressed by not having to manage several small home details.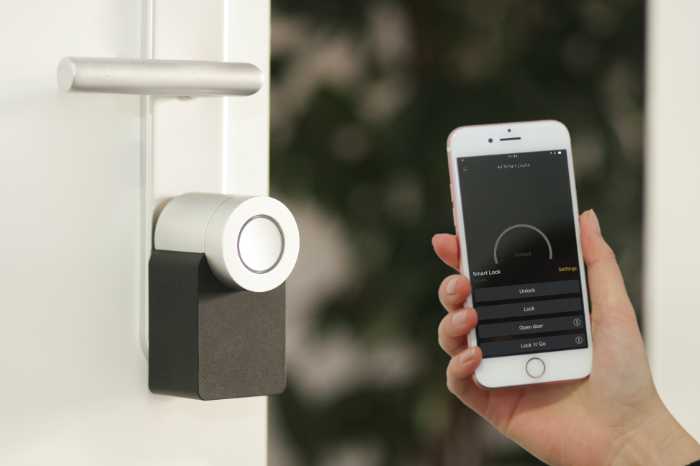 This will make your property look nicer to guests and also make Airbnb hosting easier while you're away.
Next, make sure that there aren't any weird smells or stains on the carpet – clean everything and repaint rooms if you have to.
You want guests thinking they're staying in a quality Airbnb vacation rental property, not someone's home.
The goal of any successful Airbnb business is to make it a unique experience while also making it feel like to a hotel experience.
The last thing you'll need to do is set up furniture and supplies.
For furniture, you'll need to invest in couches, tables, chairs, TVs, kitchen supplies and beds (anything needed in a functioning home).
You'll also need to provide supplies like towels, linens, shampoo and soap (anything found in a typical hotel room).
When you're setting up Airbnb rentals, always remember to stock the place with a little bit extra.
You never know how many guests will show up and if they've had a long travel day, they'll appreciate having everything they need available to them.
Now that your rental property is ready for guests, it's time to post your Airbnb listing.
6. Create Your Listing
The key to creating a successful Airbnb listing is eye catching photos and a stellar description.
The first thing you'll need to do is make sure all of the photos are taken at a high quality.
You want each photo to look as professional as possible because those affect how much people will trust your property and how likely they are to book it.
In addition, be sure that your description accurately describes what guests can expect from their stay – don't oversell or undersell!
You should also highlight any great amenities or unique features about your property, like having a private pool or a game room.
Finally, be sure that there's enough information on other areas around town so potential guests know how close your Airbnb rental is located to places like shopping malls and major attractions.
Be sure to correctly price your Airbnb. I recommend using a tool like PriceLabs for smart pricing. PriceLabs can dynamically price your listing based on demand and local trends, helping you maximize your revenue and automate that part of your business.
Last but not least, be sure to establish house rules that you and your neighborhood would be comfortable with.
Some things to consider are how many guests are allowed, noise levels at night, whether smoking is allowed, and what time check-in and out times should be.
Now that you've created an amazing Airbnb listing with all the bells and whistles – its time wait for bookings.
7. Grow Your Airbnb
There are a few key things you can do to help grow your Airbnb business and attract more guests.
The first is optimizing your Airbnb listing for search engines.
Make sure you use keywords throughout your title, description, and photos that people who are looking for an Airbnb rental would be likely to use.
In addition, try promoting your listing on social media platforms like Facebook and Twitter. You can also join groups relevant to travel or Airbnb hosting to get the word out.
Another great way to bring in traffic is by having many positive reviews. As soon as you start getting bookings, ask your guests to leave a review on Airbnb.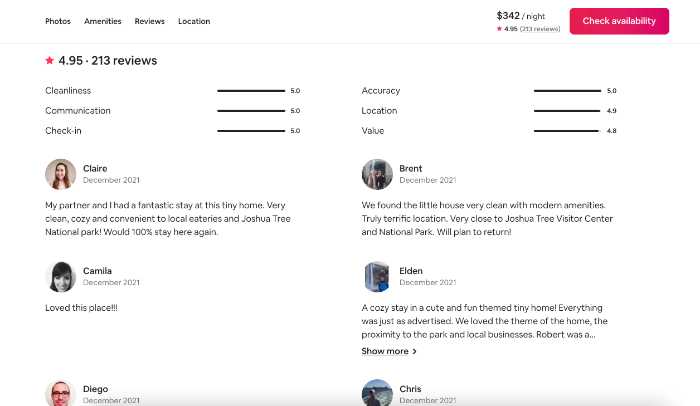 Finally, as an Airbnb host you should always be on the lookout for new ways to improve your rental space and the overall guest experience.
You can improve your guests experience by making sure you're always responding promptly to any messages. Be sure to provide good customer service every step of the way and always make yourself available for anything your guest needs.
Likewise, you can improve your rental space by offering soft bedding, more smart home devices, or complimentary coffe and snacks.
The simplest strategy to growing your Airbnb business and improving as an Airbnb host, is to ask for guest feedback and quickly put it into action.
Starting an Airbnb: Summary
So there you have it. These are the seven easy steps I took to start my own Airbnb and make $50,000 in four months. Following these tips will help get your Airbnb business off the ground and running – but remember, success takes hard work and dedication. Keep up the good work and happy hosting!
To read more about making money online, check out my other guide: 73 Best Ways To Make Extra Money Online.
Now, it's your turn. Why not start an Airbnb today?
If you're thinking of starting an Airbnb, be sure to check out PriceLabs for amazing tools that will automate pricing and maximize revenue.
How to Start an Airbnb: FAQs (Frequently Asked Questions)
What is Airbnb?
Airbnb is a platform that allows you to rent out your house, apartment or structure for short periods of time.
It's a great way to make extra income while offering people an alternative travel experience instead of staying in hotels.
Do you need money to start an Airbnb?
No, you do not need money to start an Airbnb business. You will, however, need a place to list your rental property.
You don't even need to own your own place. A common practice called "Airbnb Arbitrage" allows you to rent an apartment or house, and rent it on Airbnb (with the landlord's permission).
Is having an Airbnb profitable?
Owning Airbnb rentals can be very profitable. Depending on how often your rental is booked, the activity within your market is, how low you can keep expenses, and how many amenities you offer will determine your Airbnb income.
Trust me, there's nothing better than having a consistent and reliable stream of income. It takes some work to get up and running but the profit potential is immense if you follow the steps in this guide.
How much do Airbnb owners make a year?
It varies so much from person to person and depends on a variety of factors.
According to Airbnb, hosts in the US make more than $13,800 per year on average. However, in my first year on Airbnb, I made roughly $100,000 in revenue renting out my house full-time in Denver, Colorado.
Generally speaking, Airbnb hosting can make anywhere from a few hundred dollars per month to thousands of dollars per month.
It is possible to make a living from Airbnb income. Whether from one very profitable Airbnb or a collection of rental properties, there are many people who make a full-time income from their Airbnb businesses.