The short term rental industry is witnessing exponential growth.
The vacation rental market is set to grow by $79.30 billion by 2026. And when it comes to short term rental data, AirDNA is a market leader.
Don't just take it from me, but look at the wealth of data AirDNA has been able to provide to the short term rental market industry. They track the daily performance of more than 10 million properties on Airbnb and Vrbo in 120,000 global markets with 97% accuracy.
As a short term rental owner or investor, that's valuable information that can help you make a more informed decision about where to invest your money.
We're going to look at all the features of AirDNA and why it ranks as one of the best property data analytics tools in the industry. This article will also cover what benefits AirDNA could have for your vacation rental business and if it's worth purchasing.
Let's dive into the review.
What is AirDNA?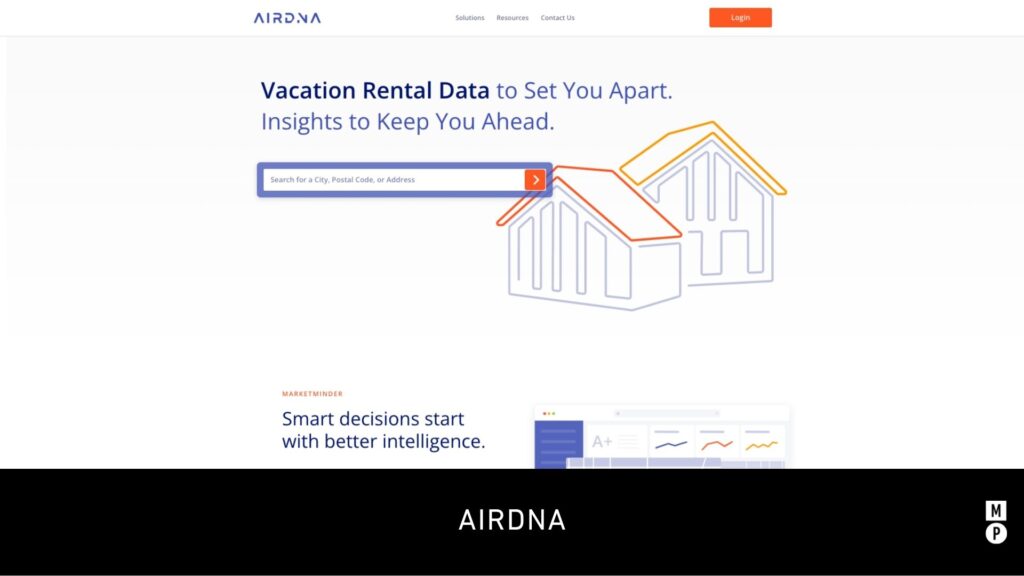 AirDNA is a platform that helps real estate investors find profitable investment properties to rent out on Airbnb or Vrbo. They do this by collecting the most accurate and comprehensive vacation rental data available and making it easy to access and understand.
This data includes insights on occupancy rates, average daily rates, revenue potential, seasonality trends, and more so that vacation rental owners and investors can make the smartest investment decisions.
You can easily get access to millions of data points so you can determine if a property is a good investment as a short-term rental.
AirDNA provides interactive maps and graphs showing the historical data of cities, neighborhoods, and individual properties to help you estimate the success of a property in a particular market.
It also offers a wide variety of reports so you can see not only how well a property is performing, but also get an idea of future trends in the market.
Get started with AirDNA
How does AirDNA get its data?
AirDNA pulls from thousands of different sources to get valuable short-term vacation rental data. They collect data from Airbnb and Vrbo, over 50,000 private hosts, and strategic API partnerships with several large property management companies.
AirDNA collects data in two ways: scraping data and collecting data from verified partners.
When it comes to scraping data, the process works by extracting reservation data from every property listed on Airbnb and Vrbo on a daily basis. AirDNA then aggregates and processes this data from over 10 million properties in over 120,000 global markets.
The second source of data is from verified partners. These are property management companies and hosts that provide their reservation data to AirDNA on a regular basis. This allows AirDNA to have a more complete dataset that is 100% accurate and based on real reservations.
AirDNA Key Features
Next in this AirDNA review article, I want to take you through the key features you need to know about.
1. Market research
AirDNA's market research gives you insights into the performance of your market and a better understanding of the trends in the general short-term rental industry.
You can use AirDNA's Market Dashboard to see a variety of data points, like:
Average daily rates
Occupancy rates
Revenue potential
Seasonality trends
You'll get access to interactive charts and maps of specific neighborhoods and individual properties to help you estimate a property's success as a vacation rental. AirDNA will also provide historical data on cities, neighborhoods, and individual properties to help you understand what a property is worth and how it's likely to perform in the future. This market research is a valuable tool for any vacation rental owner or investor who wants to make the smartest investment decisions.
2. Dynamic pricing
AirDNA's pricing tool provides customized pricing recommendations based on real-time market demand.
If you're trying to figure out how much to charge for your Airbnb, AirDNA has some of the most powerful data to perfectly price your property. They analyze the real-time market to provide personalized pricing suggestions for each date up to a year in the future. The pricing data they use is backed by a library of over 10 million vacation rentals so you can be confident you're making the right decision. It also shows you the reasons behind its recommended prices by factoring in things like holidays, weekends, lead times, and seasonality.
For the most accurate assessment of pricing, you can fully customize the pricing tool for your unique market, property, and preferences. For example, you can set your minimum & maximum rate, discounts you'd like to offer, and your preferred level of pricing aggressiveness.
3. Investment tools
AirDNA's investment tools can show you an estimate of what a specific property could earn as a short-term rental and help you compare properties to find the best investment opportunities.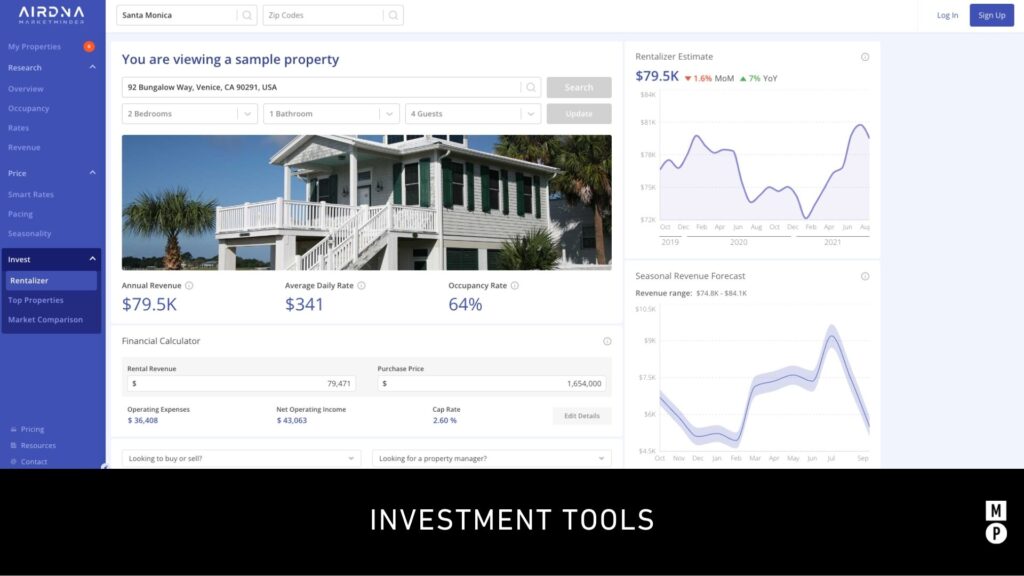 If you're looking for the perfect property to buy as a vacation rental, AirDNA's calculator tool can help you find the projected performance of any property on the market. Simply enter a property's address, and it will show you an estimate of that property's monthly revenue, occupancy rate, and other important data points.
You can also use AirDNA's investment tools to compare properties side-by-side. This is a great way to see how different properties stack up against each other in terms of their potential return on investment. You'll also be able to see the top-performing properties in any market, which can give you a better idea of what type of property is in demand.
4. Performance benchmarking
With AirDNA's performance benchmarking you can see how a vacation rental will perform in comparison to similar properties in your market. You can even forecast booked rates, lead times, and occupancy.
By connecting your property to your AirDNA account, you'll be able to filter nearby properties by size, location, performance metrics, amenities, and the number of reviews to pinpoint the listings that most closely match yours. With this competitive information, you'll be able to gauge the health of your rental business and its future performance. You'll also get access to metrics like future occupancy, booked rate, and lead time that AirDNA then compares to similar properties in your market.
By combining all these metrics, AirDNA provides a performance score for your property. Similar to a credit score, it's a number that represents how well your property is performing in comparison to others. The higher the score, the healthier your rental property is.
AirDNA Pricing Plans
AirDNA has four plans available for $19, $39, $99, and $999 per month. Let's dissect their pricing options in detail.
MarketMinder ($19 per month) – Get an overview of your local Airbnb market with data on occupancy rates, nights booked per month, average monthly revenue, and more. You'll have access to one market with less than 100 active listings.
MarketMinder ($39 per month) – Get all the features in the previous MarketMinder plan, but with access to one market with 100-1000 active listings
MarketMinder ($99 per month) – Get all the features in the previous MarketMinder plan, but with access to one market with more than 1000 active listings.
Global Plan ($999 per month) – This plan provides you with unlimited access to AirDNA's data in 191 countries and the full range of features that AirDNA has to offer. You'll also get pricing, pacing, and investment data on 10 million active listings.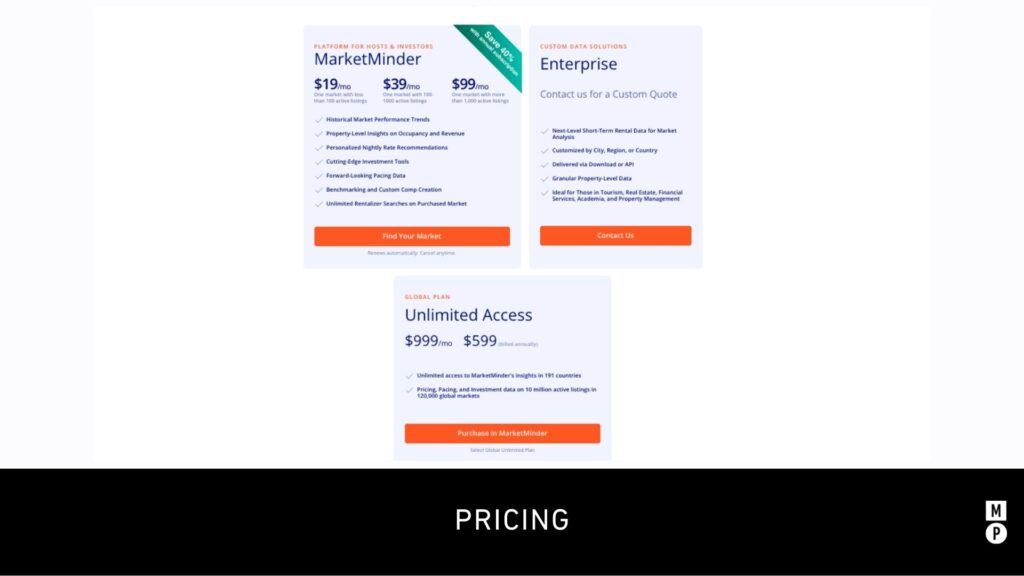 Get started with AirDNA
AirDNA Pros and Cons
AirDNA is a great choice if you want to invest in an Airbnb rental property. However, like with most things, there are some pros and cons that you need to be aware of before you get started.
Here's a quick overview of some of the benefits and downsides of using AirDNA.
Pros
AirDNA offers a wide range of features to help you with your investment decisions.
The data is collected from a variety of sources to ensure accuracy.
Pricing data is updated regularly so you can make the most informed decisions about trends in your area and whether your prices are competitive.
You can get a detailed overview of a particular market before you invest.
Easily analyze competitor properties to make informed decisions about your pricing, marketing, and rental business strategies.
The pricing plans are affordable when compared to other similar products on the market.
Cons
The data is limited to only short-term rentals and does not include traditional rental data.
Paying for full global access can be pricey.
Lacks data for projecting and analyzing future trends.
Executive Summary
AirDNA is one of the best property analytics tools on the market. Its intuitive interface, rich features, and competitive pricing put it at the head of the pack.
As a short-term rental owner, the most important part of your business strategy is to understand your local market and investment opportunities. AirDNA provides the comprehensive data you need to understand your competitors and make the most informed decisions possible.
As a platform, AirDNA is feature-rich and offers all the necessary tools to help you succeed in your short-term rental business. If you're looking for a comprehensive solution to help with your short-term rental business, AirDNA is a great option.
To dive deeper, you can check out my property analytics tools comparison article of AirDNA vs Mashvisor.
Get started with AirDNA