When you need extra money to cover an unexpected expense or bills that've been piling up, it's nice to know you have options.
You can borrow money through a variety of money loaning apps. Most of these loan apps will offer you a loan with low interest and no credit checks, but there are certain limits.
To begin with, don't expect to borrow much money. Most of the money loaning apps provide between $100 and $500. Also, their repayment terms are not favorable and, in most situations, you will be required to refund the money within a month. Lastly, some may charge a monthly membership fee ranging from $1 to $5.
Thankfully, the days when loans could only be obtained from large banks and limited lending procedures based on someone's financial eligibility are long gone.
The environment of consumer financing has shifted, and it isn't going back.
You can undoubtedly receive the finances you need from a loan, whether for a budgeted need, an unexpected indulgence, or an emergency. You do not, however, need to go to your local bank. Instead, you may download and use a money-lending app.
Money-lending apps are great for bridging cash flow shortages and flexible funding possibilities. Therefore, we've compiled a list of seven money-lending applications you should check out.
What Are the Best Apps for Loaning Money Fast?
It might not be easy to find the best app to assist you with your financial requirements, so we've compiled a list of the 7 Best Money Loaning Apps to help you quickly get the money you need. Continue reading to learn how much you can borrow from these lending applications.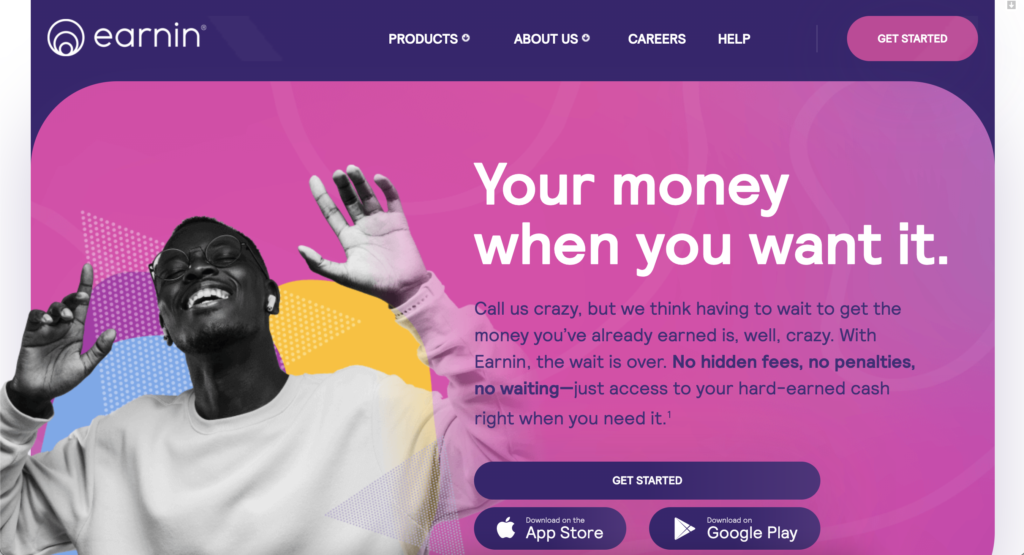 Overview:
Consider Earnin, formerly known as ActiveHours, for a simple method to obtain early access to your income. Earnin works with a lot of companies, but not all of them. You may easily have access to at least $100 a day without paying interest if you can link Earnin to your timesheet. And, because voluntary tips fund Earnin, you have complete control over your spending.
Key Features:
Instant bank deposits are available.
Put money aside for a chance to win big.
Assist in the prevention of overdrafts
Keep track of your regular payments.
You may get help at any time of day or night.
Overview:
Dave makes it simple to borrow small sums of $25, $50, or $75. This money-lending software functions as overdraft protection without the costs. The Dave app is quick and easy to download – go to Google Play or the App Store – and there is a $1 monthly cost to access Dave loans, even if there is no interest.
Key Features:
You can get up to $200.
Get paid two days ahead of schedule.
Boost Your Credit Score
There are no hidden costs.
Budgeting software that is easy to use
The amount is between $100 and $200.
Dave has a global user base of 4 million people who trust him.
Overview:
Brigit.com is another great lending app that offers up to $250 in loans. Brigit costs a $9.99 monthly membership fee that includes access to short-term funds rather than charging each borrower a variable APR. This firm has no fees, interest, or late payment penalties.
Brigit, created exclusively for cash advances, needs you to link your bank account to the app. Its algorithm analyzes your spending patterns and forecasts when you'll run out of cash. If necessary, the company will provide you with a customized cash advance to assist you in fulfilling your financial responsibilities until your next payday.
Repayment is immediately debited from your account because your bank information is already linked to the app. The firm warns you 24 hours before a withdrawal takes place and provides emergency refinancing choices.
Key Features:
Get up to $250 in cash with no credit check or interest.
While saving, build credit.
Signing up is simple.
Quick Access
There are no hidden costs.
There will be no penalty for arriving late.
Balance Warnings
Keep your personal information private.
The amount ranges from $50 to $250.
Brigit is trusted by 1.5 million people all around the world.
Overview:
MoneyLion.com, a renowned mobile lending company, offers $500 personal loans with a fixed APR of 5.99 percent and a minimum loan term of one year. If the loan is secured against a savings or investment account, even people with low credit might get a 5.99 percent APR.
Keep in mind that MoneyLion only offers personal loans to Plus members. For $29 per month, you get a no-fee checking account, no-fee managed to invest, and 0% APR cash advances. You'll also get free credit monitoring, fee-free access to 55,000 ATMs, and the chance to win a $25 gift card. Lincoln Savings Bank holds all banking money and FDIC-insured deposits up to $250,000.
The nicest thing about MoneyLion is that you get $1 in cash back every day just for logging onto the smartphone app. You may reclaim your entire membership cost by swiping through all of the cards on the MoneyLion app each day. But keep in mind that you must make a monthly contribution of at least $50 into your investing account.
MoneyLion Plus Accounts are only available to customers who meet the following requirements:
Identification that has been verified.
Earnings from work
They must be able to satisfy their payback requirements.
A positive-balance checking account with direct deposit.
You never have to reapply for a loan once you become a Plus member. The corporation will automatically re-deposit monies into your checking account because your information has previously been validated. Origination and early repayment fees are not charged, and your monthly payment is always the same because APRs and installments are set. Furthermore, your borrowing limit will increase as your investment funds grow and your credit profile improves.
Key Features:
Cryptocurrency Prize Pool
Cash on the Spot
You can invest in your future with fully managed portfolios and auto investing.
Funds may be accessed more quickly and easily.
The amount is between $50 and $250.
MoneyLion is trusted by 8.7 million people all around the world.
Overview:
Branch provides short-term personal loans with interest rates and APRs that are much lower than those of other money lending apps.
Branch does not require a credit check, so even people with bad credit can apply for a loan. The money is deposited directly into your checking account, and you can choose to repay the loan over a period of two to six weeks.
There are no origination fees or prepayment penalties, and you can get your money as soon as the next business day if you're approved for a loan.
Key Features:
No credit check required.
Loans of up to $500.
Repayment periods of 2-6 weeks.
No origination fees or prepayment penalties.
Money is deposited directly into your checking account.
Overview:
Celsius is a decentralized finance (DeFi) program that primarily focuses on crypto lending, borrowing, and earning. It's also a cryptocurrency software that lets you buy ten different cryptos that can be exchanged for more than 30 other e-currencies. Celsius is ideal for beginners and anyone who wants passive income.
Key Features:
DeFi services that are reliable
Advantages of utilizing the native CEL token
CelPay is a simple money transfer method.
A $30 million insurance policy covers the assets kept in the Celsius wallet app.
Residents of 150 countries can trade using PC, iOS, or Android applications.
Minimum balances, loan origination, and transfer costs are all free.
Overview:
Chime is the next app on our list, a financial platform that you can use from anywhere to track your account balances, daily transactions, and savings.
Chime allows you to take out up to $100 in cash loans before your next payment. You should check out this rising lending app to aid you with your finances since it has over 135K five-star ratings in the app stores. Chime is unquestionably a fantastic $50 loan app.
Key Features:
Up to $200 in overdraft
There are no hidden costs.
Get paid two days ahead of schedule.
Make use of Credit Builder.
Obtain your financial objectives
Friends can be produced without incurring any transfer costs.
The amount ranges from $50 to $200.
Chime is used by 12 million people all around the world.
What is a Money Lending App?
An app that connects lenders and borrowers is a money loaning app. Borrowers and lenders are regular individuals. Borrowers can ask for a loan, and lenders can provide it in exchange for a percentage of the loan.
At its most basic level, lending is the act of offering money to someone now, hoping that they will repay you later. Typically, lenders are compensated by the borrower by making monthly payments until the total amount owing is received.
Are Mobile Lending Apps Right for Me?
If you're short on money until your next payday, it could be worth looking into money-lending applications.
According to a Federal Reserve analysis, many Americans are financially unprepared for unexpected expenses: nearly 40% would struggle to meet a $400 out-of-pocket bill. If you're thinking about taking out a costly payday loan, it could be worth your time to look into money-lending applications and compare the charges.
How Do Mobile Lending Apps Work?
Borrowers are connected directly to lenders, often known as investors, who offer money to qualifying candidates using such applications. These apps connect people who want to lend money with people who want to borrow money. Companies/intermediaries create peer-to-peer software and are paid by both creditors and borrowers.
Factors To Look For When Choosing A Money Loaning App?
If you're thinking about asking for your first personal loan, you need to be aware of some facts to offer to potential lenders and keep yourself informed.
Some of these factors may already be known to you, such as your salary, but others, such as your credit score, may require more investigation before you apply for a loan.
Lenders Consider 7 Factors When Considering Your Loan Application:
Your earnings and employment history
The debt-to-income ratio measures how much money you owe compared to how much money you make.
The worth of your collateral…
The size of the down payment…
Term of the loan
Final Thoughts
There are a few money-lending apps available to people who need money urgently. The best apps will provide you with the funds you need without putting you in debt for an extended period. Most importantly, review interest rates, fees, loan amounts, and repayment terms before using a money loaning app. Be sure to do your research to ensure that you are getting the best deal possible.
That concludes our list of the best apps that loan money fast this year. Do you have any experience with using money lending apps? Reach out and let us know your favorite.