Budgeting is a necessity for anyone who wants to keep their finances under control. But consistent budgeting can be difficult to pull off.
For many people, budget templates are the best option because they make tracking your finances simple and easy.
This post will give you the 17 best printable monthly budget templates that cover a variety of needs. Most importantly, the templates in this article are ranked based on simplicity, the ability to see your monthly expenses at a glance, and ease of tracking your spending. They are also all FREE.
Let's dive in.
What is a budget template?
A printable monthly budget template makes it easy to track your income and expenses for the month. The template can help you see where your money is going and identify areas where you can save.
There are many different types of budget templates, but the most popular ones are categorized by type of spending (e.g. fixed expenses, variable expenses, etc.), by month (e.g. January budget, February budget, etc.), or by income and expenses combined.
Many templates are simple enough that even beginners will be able to use them, but they can also provide more features if you're looking for something more advanced.
How do you use a budget template?
Using a printable monthly budget template is straightforward.
First, enter your fixed expenses (e.g. rent/mortgage payment) and variable expenses (e.g. groceries) into the corresponding fields of the spreadsheet or document you're using for your printable monthly budget template.
Then, record how much you spend in each category by filling out that column with numbers on any given month during the year when it's time to track spending again.
At the end of each month, calculate your total income and subtract your total expenses to see how much money you have leftover (or vice versa). This will help you make informed decisions about where you can cut back on spending.
What are the best printable monthly budget templates?
Here are my top picks for the best free budget templates.
This is a basic budget template that helps you find areas where you can save money, reduce spending, or analyze your monthly expenditures by tracking how much money goes to each major category of your life.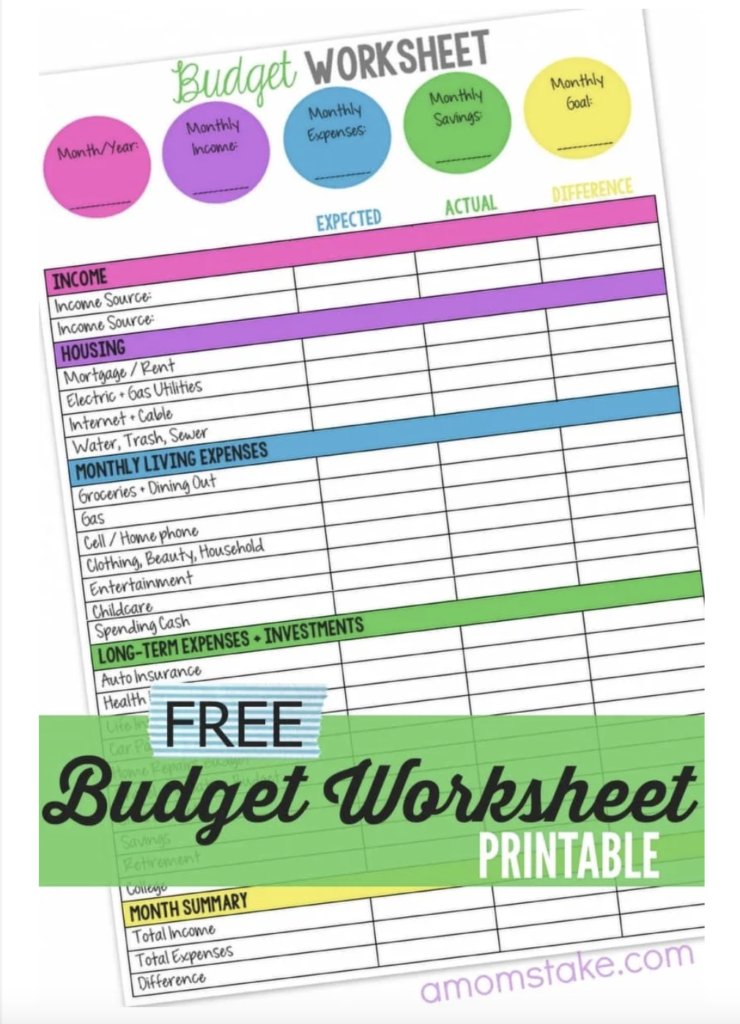 This budget template is made up of a few separate worksheets: a debt tracker, your budget at a glance sheet, budget overview, and monthly budget tracker. This template is designed to assist you in becoming a better money manager and make keeping track of your finances easy. I love that this budget template gives you lots of space to work with.
This is a simple budget template that allows you to keep track of your starting balance, debt, and income each month. I like that the worksheet is color-coded so you can easily keep track of your total expenses, income, and how much you have leftover at the end of each month.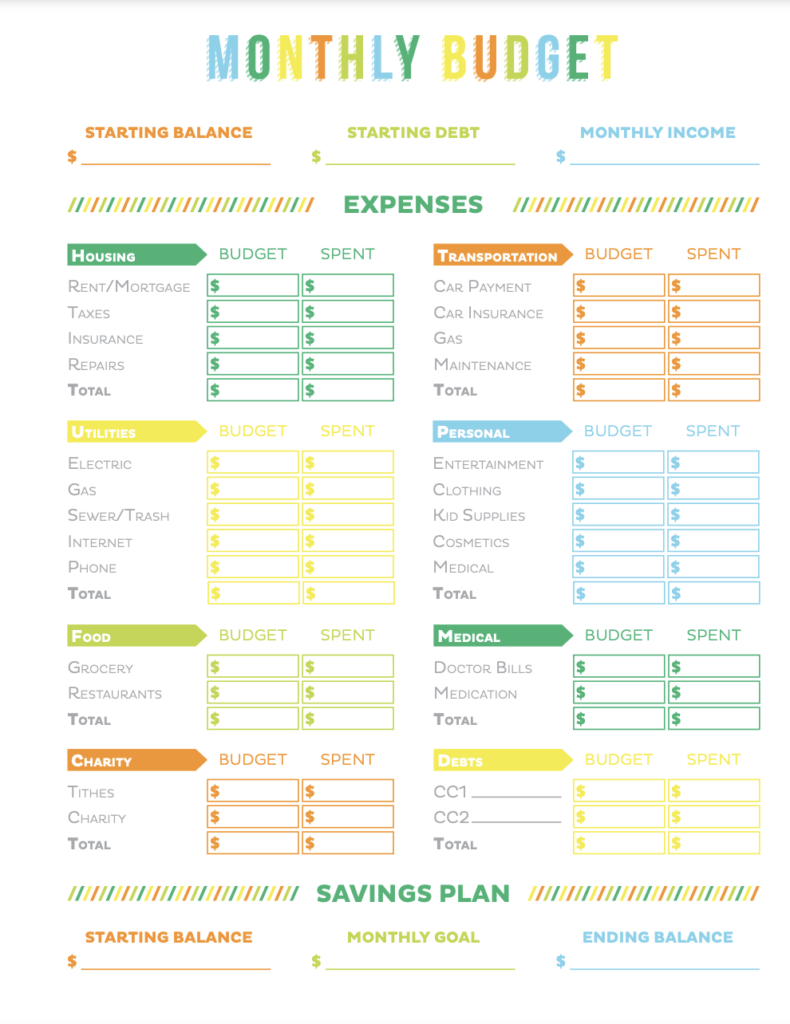 This beginner-friendly budget template is easy to fill in and perfect for staying on top of your finances. The ability to create reminders for yourself within the worksheet is an added benefit for anyone who frequently forgets to pay their bills.
This eye-catching budget template has a clean, simple design that makes it easy to fill out and glance at. It lets you keep track of income, savings, fixed and variable expenses. It also serves as the perfect quick reference to review your finances for the month.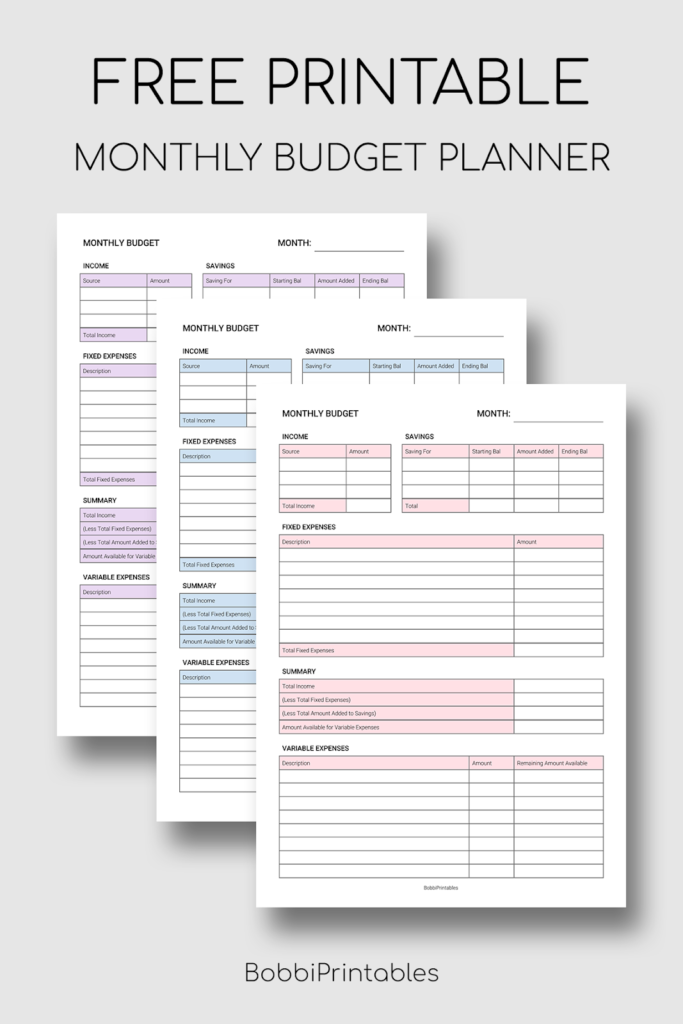 I love this printable budget template because it's so hands-on. It helps you feel the impact of your spending by putting cash in envelopes that are dedicated to each component of your monthly expenses (e.g. groceries, entertainment, etc.). The fact is that when you use cash, you spend more effectively.
This minimalist budget tracker is built for 25 separate dates on a single page. The template is extremely simple to use. Keep track of your income, expenses, credit card transactions, or car payments with this simple budget tracker.
This printable budget template is perfect for those who like to keep things as simple as possible. It's a zero-based monthly budget planner that allows you to track your income and expenses on the same page. The goal is to end up with a zero budget. In other words, your monthly income should be equal to your outgoing money. If it isn't, you'll need to make some changes.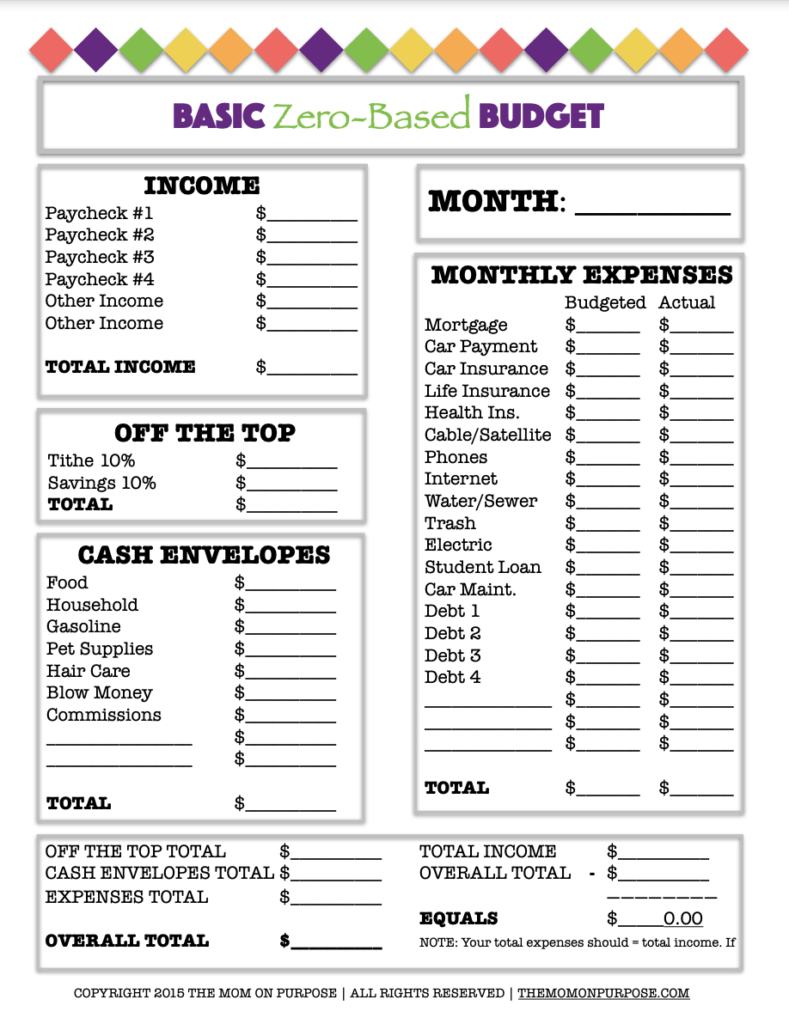 When completed, it's much easier to understand your finances with this template. Like many others in this list, it is a straightforward template that lets you track your whole financial picture. However, it is also very helpful for tracking and seeing if there are any drastic changes in your monthly bills.
This printable budget template is based on the 50/30/20 rule. It helps you understand how much of your monthly income should be spent in each category. The goal is 50% of your income should go towards "needs", 30% towards "wants" and 20% towards "goals".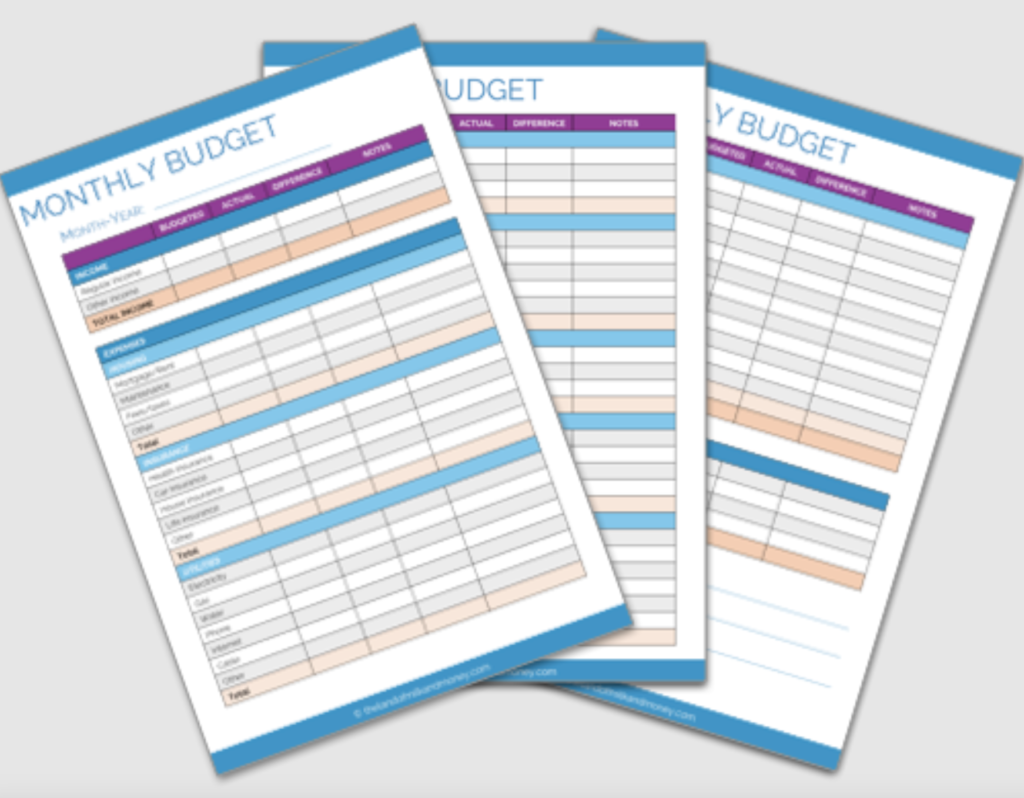 This printable budget template can be used to track your spending for the whole family. It is designed with the use of simple language, which I love because it's easy to fill in and understand. The most important part about this budget template is that you have room to write down all expenses at once so nothing gets forgotten or left out.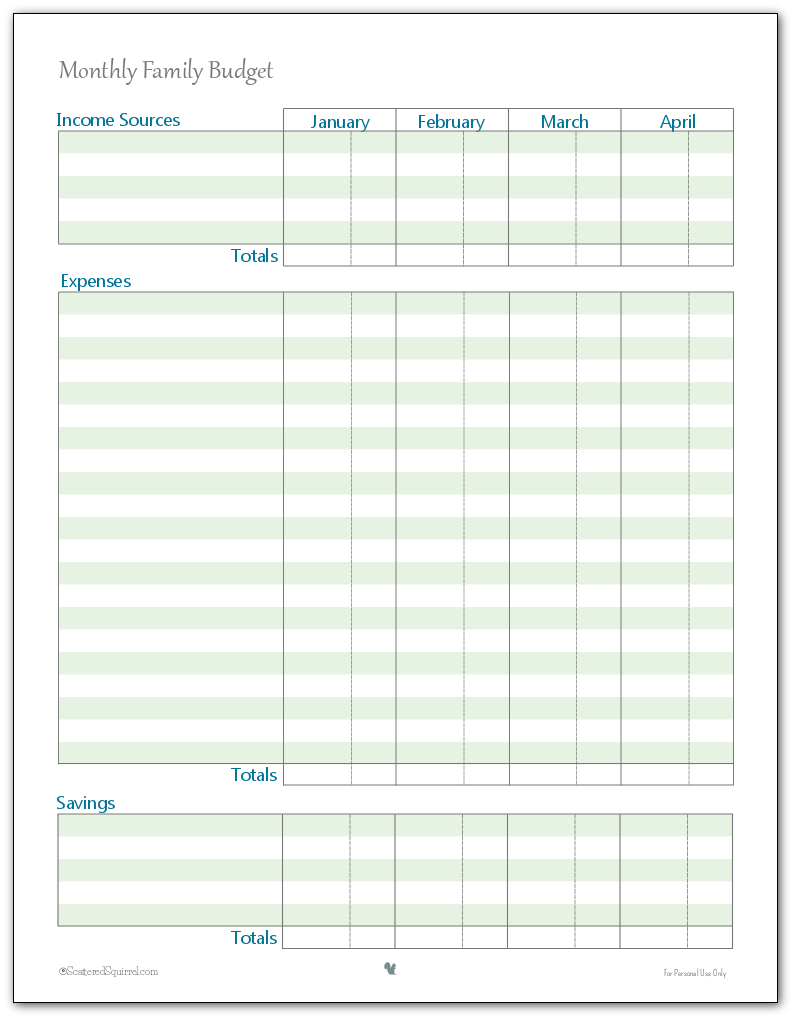 This is an extremely simple one-page budget worksheet that helps you track your expenses. The printable budget template is very straightforward which makes it easy for anyone to use, even those who are just starting out tracking their finances. It allows you to keep tabs on all your income and monthly bills in one place so that at the end of each month everything balances out perfectly.
This is the best budget template for tackling debt. This printable debt snowball worksheet helps you pay off your debts by organizing them in order of priority. You start with paying the minimum payment on all cards except one, which has the smallest balance and highest interest rate. The next month, you can allocate more money to that card while still maintaining payments for all other accounts (except the first credit card).
This is a great template that uses the intentional budget method. The intentional budget method is an excellent approach to budgeting since instead of overspending and putting away cents at the end of the month, you put your money into savings immediately.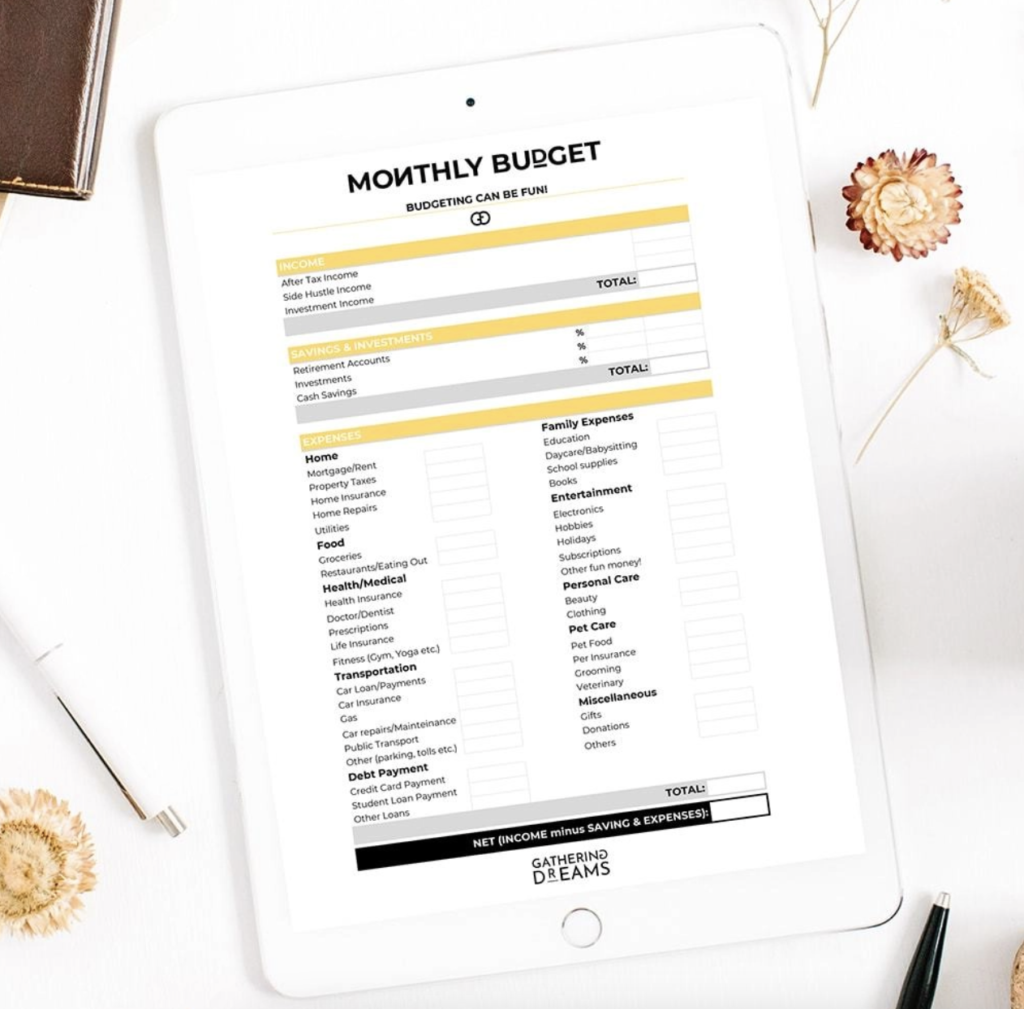 The zero-based budget method is an effective way to track finances since it forces you to justify your spending every month. The concept is simple and the worksheet is easy for beginners. The goal is to take your entire income and allocate all of it to your debts and expenses. The total income and expenses should balance out to zero.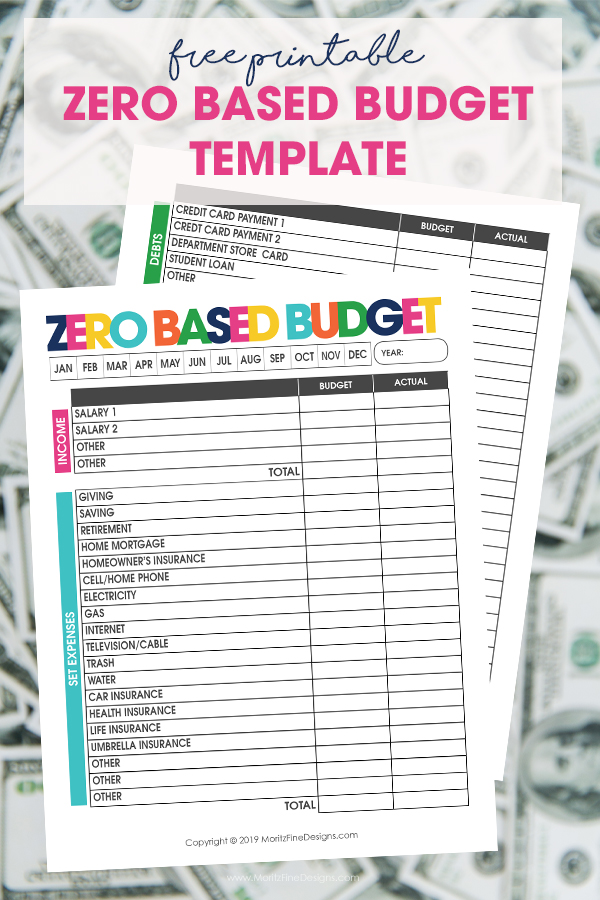 This is a great template for people looking to kill debt or those who like to use cash. This printable budget template is designed for those who want to be very intentional about their spending each month. It's also a great way to start saving money and get out of debt because it allows you to set aside predetermined amounts of cash every month for specific purposes.
This is a great option for those looking to get a quick snapshot of their finances every month. It does a nice job of providing a simple overview of your planned and actual monthly income, expenses, savings, and debt. This printable budget template is perfect for those who want to be able to quickly and easily see their progress month by month.
Best printable monthly budget templates: Summary
Monthly budget templates should be easy to use and provide the ability for you to track all of your income and expenses in one place. Most importantly they should be free! They should also come with several other features that are designed specifically for beginners or those who have a lot on their plate each month. Once you decide which printable is right for you, it's time to start using it.
You'll be able to see your progress over time and get a better understanding of where your money is going. If you're looking for the best printable monthly budget templates, look no further. These 17 templates are easy to use, straightforward, and perfect for anyone who wants to get their finances in order. All of these templates are free to print and come with a variety of features that will help you get started on your budget today.
Which one of these are you using to manage your finances? Reach out and let me know.
Happy budgeting!